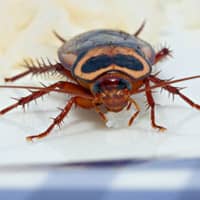 Let's face it, when most people think of a cockroach-infested home, they think of a filthy kitchen with two-month-old spaghetti sauce spilled on the floor and flecks of rock-hard pancake batter covering the entire stove area. They think of garbage overflowing, dirty dishes piled high, and an unidentifiable goop oozing from the trashcan. Yup, this is what many people think of when they think about a cockroach infestation, and, in many cases, they would be right to think this way. Filth certainly does attract bugs, but cockroaches are also known to infest places that are clean. Even opulent mansions with an army of maids and butlers can have trouble with cockroaches. These pests are equal opportunity infestors. Sometimes, they are just looking to come in out of the elements, especially at this time of the year as temperatures begin to drop.
Cockroaches are also known to hitchhike from the grocery store inside packages of potatoes or other foods. In some cases they hitch a ride in on guests, or, if you live in an apartment or town house, they can come through the walls. Regardless, even though it wasn't your uncleanliness that lured them in, discovering roaches can be extremely unsettling--and understandably so! There is definitely a stigma to having roaches, but when you find roaches in your home, you have more to worry about than your reputation. They spread feces and urine wherever they go, their shed skins are known to exacerbate asthmatic conditions, especially in children, and they are directly connected to the spread of 6 parasitic worms, 33 different kinds of bacteria (including E. coli and Salmonella), and more than 7 other types of human pathogens.
Here are some tips to resist cockroaches:
Make sure all food is sealed securely, either in the fridge or in sealable plastic containers.

Don't leave pet food out between mealtimes.

Leave dishes in soapy water instead of in a dry stack next to the sink.

Keep crumbs cleaned up around the toaster.

Keep pantry shelves free of sugar or other spills.

Dry up any standing water around sinks, tubs, toilets, or other areas where water might accumulate.

Deep clean around stoves and under the refrigerator, periodically.

Inspect your home, inside and out, for holes or cracks. (Don't forget to look closely around windows, air conditioning units, and pipes) and seal up those gaps using a caulking gun.
Effect Cockroach Control
There are many ways to resist cockroaches and even kill those dirty little buggers, but sealing these resilient pests out of your home completely requires a professional. At Moyer, our technicians are continually educated in advancements in pest control methods with a focus on smarter, Eco-friendly solutions. When you need to exclude these dirty pests from your clean home, call us today, we can help.