Pest Control For Westtown, PA
Westtown is a township found in Chester County that provides its residents with great neighborhoods, business opportunities, and access to excellent schools.
Home pest control, commercial bed bug control, bed bug treatments, and termite control are some services that Moyer Pest Control provides to the people of Westtown to ensure that their properties are free of dangerous and damaging pests!
Moyer Pest Control professionals are dedicated to serving the residents of Westtown and providing local pest control services, to our local customers, to eliminate local pests!
Home Pest Control In Westtown, PA
Pests cause more than just stress and they are more than just a nuisance, they can be downright dangerous. Pests can introduce diseases and bacteria into homes that can make both people and pets sick, destroy personal items, contaminate food sources, and damage the structural elements of homes.
The best way to control and prevent pests in your Westtown home is to put into place a pest control program from Moyer that provides effective, affordable services that are performed by highly trained, dedicated, and friendly technicians.
We offer three different home pest control programs in Westtown for our customers to choose from, however, our most comprehensive and our best value is our Platinum Home Guard program. This program works to control common household pests along with providing control for termites, mosquitoes, and stink bugs. The Platinum Home Guard program provides the following services:
Six schedule service visits every other month.

Three visits to inspect termite monitors around your home.

Removal of spider webs and eggs on each visit.

Four mosquito and tick applications to targeted areas.

One interior inspection.

Vole monitoring and inspection every visit-along with treatment as needed.
Contact us today to learn more about the Platinum Home Guard program or our other effective home pest control programs!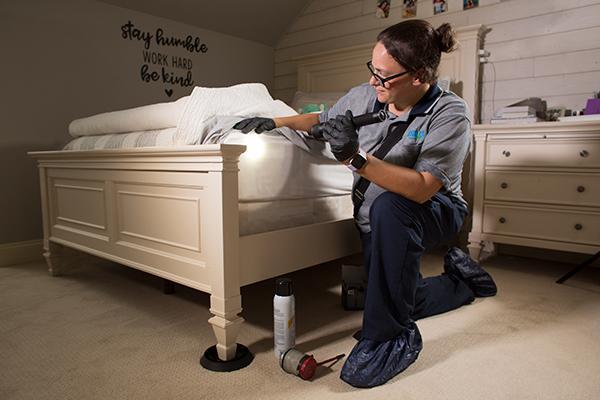 Bed Bug Treatments In Westtown, PA
Bed bugs are parasitic pests that invade homes and businesses; they hide in dark hard to reach cracks and crevices, only coming out at night to feed on unsuspecting people as they sleep. You may think you know everything you need to know about these blood-sucking pests, but listed below are some interesting facts about bed bugs that you might not be aware of.
Bed bugs can live for a year or longer without eating.

They can stand freezing temperatures and temperatures that reach up to 113 degrees Fahrenheit.

The carbon monoxide that we exhale as we sleep is what attracts bed bugs to us.

Components in bed bug saliva act as an anesthetic making the feeding process nearly painless and why people don't wake up while the bed bugs are feeding.
Moyer has developed very effective treatment options for eliminating invasive bed bugs from properties including the use of K-9 bed bug detection dogs and heat treatment. But, no matter how a bed bug infestation is eliminated from your home, the process at Moyer always starts with the same following four steps.
Our professionals inspect for and target bed bugs in either residential or commercial properties.

We always confirm a positive infestation as a method of verification before treatment.

We always confirm that a previous treatment has or has not been successful.

Our bed bug professionals will narrow the treatment area to save both time and money.
Contact us today to schedule your Westtown property's K-9 bed bug inspection!
We're Ready To Help
Get started today! Schedule now or call for more information.
Termite Control In Westtown, PA
Termites are very damaging pests that cause over 5 billion dollars worth of damages to homes and businesses across the U.S. each year. Termites tend to cause so much costly damage to properties because it usually isn't until their damages are noticed, that people realize termites have invaded their property.
At Moyer, we understand that prevention is key to winning the battle against termites and to protect Pennsylvania properties we have developed three preventative programs.
Our Termite Renewal Program (PTR) utilizes the Green Eyes monitoring stations where feeding termites set off a quick and reliable visual signal.

Our Pest Termite Preventative Program (PTP) works by placing Termidor® termiticide on the exterior of your commercial structure to proactively protect your property from termites.

The Complete Home Guard Plus (PQP) this treatment options is provided as a part of a larger routine pest control program.
To find out more about our customizable termite control program for Westtown properties, contact us today!
Why Choose Moyer Pest Control In Westtown, PA
Moyer Pest Control was established in 1869 and because of our longevity we are able to provide our customers with a winning combination of modern state-of-the-art technologies and treatments with our tried and true, time-tested pest control solutions. At Moyer Pest Control we always have and always will place our focus on the communities that we all live together in.
We pride ourselves in being able to offer exceptional customer service and effective, eco-friendly, trustworthy, and affordable pest control services to all of our customers. Call Moyer Pest Control today to find out why so many Westtown, PA residents trust us with any and all of their pest control needs!