What Are Food-Infesting Insects?
Food-infesting insects, often called pantry pests, are a group of insects which include the Indian meal moth, saw-toothed grain beetles, cigarette beetles as well as many others. The Indian meal moth is a common grain-feeding pest that is found throughout the world. Often referred to as "waxworms", these insects feed on cereal and other dry grain products. The saw-toothed grain beetle is slender-bodied, flat, brown beetles that are about 1/10th of an inch long with six saw-like tooth projections on each side of the thorax. These beetles prefer all grains, except flour-based products, but they will also eat cereals, breakfast foods, dried fruits, macaroni, crackers, tobacco, chocolate, and nuts. The adult cigarette beetle is a small, red-brown to yellowish-brown beetle. When seen from above it appears oval, but from the side appears humpbacked in shape. It ranges from 1/10th to 1/8th inch long. They are more commonly seen during the fall and winter months and are a pest of dried tobacco, spices, and dry dog food.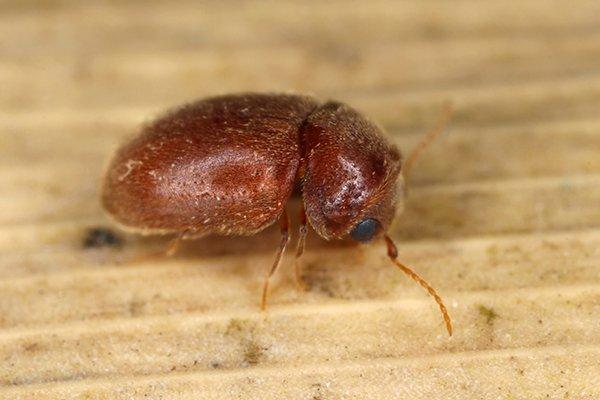 Why do I have them?
Food-infesting insects have an appetite for many types of stored food products. They love: flour, cereal, dry pasta, dry pet food, powdered milk, corn starch, crackers, spices, breads, bird seed, dried nuts and fruit. They can enter your home from homes and apartments next door, but more commonly are brought into the home in contaminated food packages.
Are they dangerous?
These insects do not bite, sting or carry disease. They are a nuisance pest that can contaminate and spoil our food, creating waste and increasing our cost of living.
How do I get rid of food-infesting insects?
Indian meal moths, saw-toothed grain beetles and cigarette beetles are difficult to get rid of because of their ability to infest our food sources. A Moyer Service Professional™ can confirm the presence of food-infesting insects and recommend one of our 2 Home Guard services to help you get rid of food infesting insects.
Can I do it myself?
It is very difficult to identify food-infesting insects, so they are not a pest many homeowners have success in eliminating on their own. Many do-it-yourself repellents and sprays to rid your property of food infesting insects simply do not work as the chemicals they use are not effective and can be dangerous to use around food sources. Also, if misused or mixed improperly, pesticides can be very dangerous to people, pets or plants.
Is the treatment safe?
The health and safety of our customers, their families or employees is very important to us and that is why we use Integrated Pest Management products and treatments that are EPA registered for pest control use. In addition, all of our Service Professionals™ are registered and licensed by the state or local jurisdictions where we provide service to ensure proper application.
How soon can you get here?
Moyer Service Professionals™ are committed to helping you as soon as possible. In most cases, we can respond the same or very next day.
How can I prevent this in the future?
Many pest problems can be difficult to prevent, so many of our customers choose one of our 3 comprehensive, year round programs to ensure food-infesting insects stay out of their home or business.
Where does Moyer Indoor | Outdoor service?
Moyer provides service in Souderton, King Of Prussia, Roslyn, and throughout Northampton, Lehigh, Bucks and Montgomery Counties as well as parts of Chester, Delaware and Philadelphia Counties. Contact us today to learn more about the services available in your area.
Contact Moyer Pest Control
Our team is ready to solve your pest problem. Fill out the from below or call (215) 660-3642.


Latest Blogs
Stay informed about pests and pest related issues in your area!