Pest Control For Malvern, PA
One of the most desired residential communities in the Philadelphia area is the borough of Malvern. This quaint community draws residents in by offering wonderful neighborhoods, plenty of retail and industrial businesses, public parks, and engaging community events. In Malvern, you receive all the amenities of the 'big' city without the big city hassle. Commonly, wherever people gather and live together in a community, pests like rodents, cockroaches, mosquitoes, and more will also gather to make themselves at home. This is because many pests find the food, water, and shelter that they require in our homes and businesses. Many of these pests, however, pose a significant risk to the health of your family and the structural safety of your home.
For Malvern residents, the safest and most effective way to keep pests away from homes and businesses is with year-round pest protection services from Moyer Pest Control. Our highly trained and certified specialists understand the habits and habitats of local pests and can quickly eliminate pests and identify and address any areas or conditions that are attracting them to your property. To see how our comprehensive year-round pest control plans can help you to secure your home from pests, simply contact us today.
Home Pest Control In Malvern, PA
One of the most important tasks that you have as a homeowner is protecting your home and yard from harm, and part of that protection requires an effective, year-round pest control plan. Here at Moyer Pest, we offer Malvern residents three comprehensive residential packages to choose from to meet the specific needs of your home. Whether you choose our Exterior Home Guard, Platinum Home Guard, or Complete Home Guard home pest protection plan, you can be assured that it will safely eliminate pests and will guard your home from future pest infiltrations. All programs also offer free services between visits if covered pests return and are backed by our satisfaction guarantee.
To see which pest control program is right for your Malvern home, give us a call today.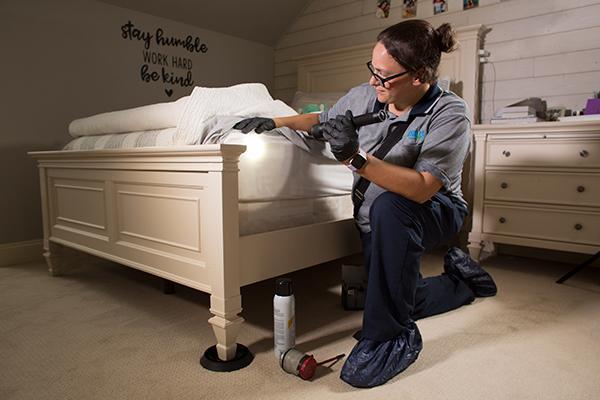 Bed Bug Control Inspections And Treatments In Malvern, PA
Bed bugs have made an incredible comeback over the past decade or so. Once nearly extinct, they are now the topic for many of the calls and questions that pest control professionals receive. These pests cause significant stress, and an infestation is often accompanied by many sleepless nights making a quick and effective resolution paramount. When bed bugs infiltrate your Malvern home or business the best solution is to turn to the trusted experts at Moyer Pest. We offer Malvern home and business owners K9 bed bug inspection services, heat treatments, and conventional materials to ensure that bed bugs are quickly and discreetly eliminated from your property. When the bed bugs bite in your Malvern home or business, simply give Moyer Pest a call. Those bed bugs will soon be a distant memory.
We're Ready To Help
Get started today! Schedule now or call for more information.
Commercial Pest Control In Malvern, PA
When you manage or own a business in Malvern, two of your most important responsibilities are maintaining the integrity of your product line or service and keeping your good reputation; and these are precisely the first things adversely affected when pests appear on the commercial scene. Moyer Pest Control offers Malvern business owners quality service at a fair price to keep these pest pressures under control. By utilizing integrated pest management strategies and by being Copesan connected, we can offer Malvern businesses some of the most comprehensive protection packages in the industry. When you turn to Moyer Pest Control for your commercial pest control needs, you can expect the highest standards available, comprehensive reporting, centralized scheduling, site assistance, and Saturday or evening services. No matter which industry you are involved in, Moyer has a plan that will meet or exceed the governmental regulations set for it. To learn more about our cost-effective commercial pest control options, simply contact us today.
Why Choose Moyer Pest Control?
Not only does Moyer Pest offer the most innovative, the most advanced technologies and protocols, but our experts are backed by the more than 147 years of hands-on experience in local pest pressures that Moyer Pest Control has gained since opening our doors in 1869. We not only utilize conventional methods and materials that have been proven to be effective options for generations but we also continually work to bring you the newest solutions that work too. Our QualityPro certified team excels in trusted consumer relations, offers certified business practices, engages in ongoing expert employee training, and demonstrates superior environmental stewardship practices to bring you the very best possible care.
When pests become a problem for you in your Malvern home or business, you can trust the industry-leading team at Moyer Pest Control to safely and effectively handle it. We stake our reputation on it!