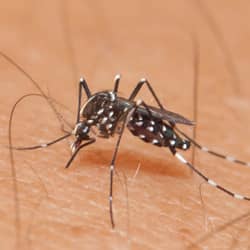 Mosquitoes are still very active and will remain active until at least the end of October in most parts of the country. Mosquitoes are known for transmitting many serious diseases including the West Nile virus; but the disease that has been in the headlines throughout this spring and summer is the Zika virus. The mosquito professionals at Moyer Pest Control want to provide you with some of the latest updates about the Zika virus and how you can help to protect yourself and your family from this disease.
Before June of 2016 the only cases of the Zika virus in the United States were those that were travel related. A person traveled to a different country, was bitten by a mosquito, infected with the Zika virus, and returned to the United States. However, in June of 2016 the Florida Department of Health has identified a neighborhood in Miami where Zika is being spread through mosquitoes. According to ABC News and the Florida Governor, Rick Scott, 4 new cases of Zika were identified in Florida on August 9th, bringing the number of people infected with the Zika virus in Florida up to 21.
The Zika virus is huge concern for pregnant woman; pregnant women in the Miami area and all across the country need to take special precautions and make sure to be assessed and, if warranted, tested for the Zika virus. The CDC is currently recommending that all pregnant women in the United States be assessed for possible Zika virus exposure during each prenatal care visit. Also, any pregnant women who live in or frequently travel to this area should be tested for the Zika virus in the first and second trimester of pregnancy. Right now the Zika virus is only known to be spreading in Florida, but people living in all other areas of the United States still need to be vigilant and try to reduce exposure to mosquitoes as much as possible.
The safest and most effective way to reduce you and your family's exposure to mosquitoes is to put in place a professional mosquito control service for your property. It is also helpful to make changes around your property to try and deter these harmful pests. Mosquitoes are attracted to areas of standing water; limit standing water around your property by examining your home's gutters and down spouts to make sure that they are not clogged; store buckets, pet dishes, wading pools, and wheel barrows upside down when not in use. Shake off water that collects on tarps that are covering things on your property along with lids to trash and recycling cans.
For more information about mosquitoes and how Moyer Pest can help to safely reduce the number of mosquitoes on your Pennsylvania property through our mosquito management plan, contact us today!