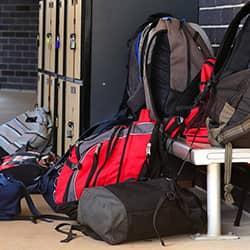 Kids and parents alike eagerly look forward to the holiday break – time for families to spend time together, relaxing and enjoying a well-deserved respite from busyness! Or maybe you have a family vacation planned to some exciting destination outside of Souderton. Something you may not know is that bed bugs can travel from your child's school and settle into your cozy warm home for the winter. Let's discuss why schools and daycares can be breeding grounds for bed bugs; how they enter your house; what you can do to prevent them from gaining access; and how Moyer can help if they've already hunkered down for the winter.
Bed bugs love clutter. They also love anyplace where humans sleep, such as daycare centers with cribs and cots. But why would bed bugs be found in other schools? They don't fly, so they either latch onto a human host, or an object carried by a host (clothing, backpack, suitcase) and travel between locations. It's pretty easy for a Bed Bug to find its way onto a backpack or coat that's been left near an infested bed, lay eggs, and be sent to school along with a child from an infested house. Piles of backpacks and coats left strewn around at school welcome bed bugs to a new mode of transportation, and before you know it, you've got hitch-hikers.
How to Keep Bed Bugs Out of Your Home
So what can you do to prevent these unwanted visitors from entering your home over the break?
Keep your kids' bedrooms free from clutter (easier said than done, of course).
Clothing should be kept off the floor and items should not be left around and underneath the bed where bed bugs like to hide.
When your children return from school, have a designated area in the house, away from bedrooms, where they can deposit their belongings such as backpacks and coats.
Limit the number of items they bring to and from school, such as stuffed animals.
Inspect backpacks regularly, especially in the crevices where eggs and nymphs may hide.
Wash coats, jackets, hats, scarves, and mittens regularly.
If you do find a bed bugs on your child or amongst your child's belongings, don't assume you have an infestation. One bed bug does not necessarily mean your house will be taken over, but you do need to know how to identify an infestation.
How to Identify Bed Bugs
Common signs of a bed bugs infestation include tan or brown stains on bedding, tiny black feces, and similarly tiny skins that are shed during development. You may notice an odor in the home. If you actually spot an adult bed bug, it will be about the size and color of an apple seed. Bed bugs feed on blood, so you may find unexplainable bites on your skin or on your child's skin that has been exposed during sleeping.
How to Get Rid of Bed Bugs
Do not attempt to handle a bed bug infestation on your own. Bed bugs are clever, resourceful insects, and they are difficult to remove permanently without professional help.
Moyer Indoor Outdoor will help you locate the source of the bed bugs, eliminate them permanently, and prevent them from entering your home ever again. Call us for more information. We are here to serve you!