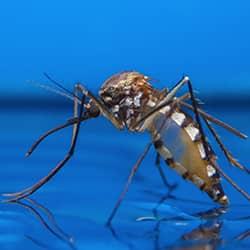 No one goes out and buys a pet mosquito. In fact, even the thought of it is quite ridiculous. No, mosquitoes are more of a creature to avoid than one you want cuddling up at your feet at night. However, whether we like it or not, as the weather warms up, mosquitoes will be back and will be just as annoying as ever.
Why DIY Mosquito Prevention Is Not Enough By Itself
Although there are a few ways you can reduce mosquito populations on and around your property, they are not always enough to drastically reduce the number of mosquitoes, and here's why.
Prevention steps such as removing mosquito-breeding grounds by eliminating sources of stagnant water around your property can be effective to reduce the mosquito population on your property. However, if you have neighbors or sources of stagnant water nearby that you cannot remove (such as a swamp or lake), you may find that no matter what you do, it will seem like nothing has changed. This can be maddening and may leave you wondering, 'Is there a better way to keep mosquitoes away?' We are here to tell you, yes. There is a better way.
Mosquito Prevention With Moyer
At Moyer, we know the best ways to treat properties for mosquitoes. This is how we do it.
First, one of our trained pest professionals will do a thorough inspection of your property to not only identify mosquito-breeding grounds but also to form a course of action to eliminate them.

Second, the professional will apply an EPA-approved pest control product to all mosquito hiding places they most commonly go to during the day. This spray treatment not only fully eliminates existing mosquitoes, but it will also work long after your pest professional has left, to keep mosquitoes off your property.

Third, your assigned professional will treat sources of stagnant water with larvicide, a product designed to prevent future mosquitoes from breeding on and around your property.
These three steps work together to keep properties mosquito-free through spring, summer, and fall. If that sounds a good thing for you, give us a call here at Moyer. We would be happy to explain your options for quality pest control and find one that best suits your needs. When it comes to efficient mosquito control, trust the professionals that do it best, choose Moyer!