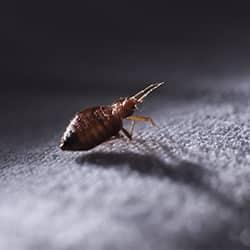 Bed bug infestations have made a fierce comeback. There was a time not long ago where they were almost completely eradicated from the U.S. But that's no longer the case. With summer arriving soon, we can expect an increase in infestations. Souderton homeowners should be prepared by knowing the factors that lead to bed bug invasions and what they can do if bed bugs get inside their homes.
Summer is a popular time for traveling and for flea markets. Both of these increase the spread of bed bugs. They can be brought in on suitcases, furniture, second-hand clothing, and anything else that comes through your door, even yourself! Bed bugs can hide amongst your clothes, shoes, purse, etc. without anyone being aware. It's advised to inspect items carefully before bringing them through the door and to vacuum your home frequently.
If you fall victim to a bed bug infestation, professional heat treatments are the most effective methods at eliminating them. If you've ever dealt with bed bugs, you know that they can be extremely difficult to get rid of. As soon as you think they're gone for good, they come back twice as thick and you're waking up with more itchy bites. This is why so many customers have been satisfied with the benefits of heat treatments.
How does heat treatment work?
The heat treatment at Moyer Pest works by raising the temperature inside your Souderton home to a degree just above what bed bugs can endure. This is done by trained professionals who monitor and regulate the process. The treatment doesn't just reach adult bed bugs, but the eggs, nymphs, and larvae are killed as well. After just one treatment, all the bed bugs in the home are eliminated.
Customers love heat treatments and here's why:
Many DIY bed bug treatments don't work. Bed bugs can become resistant to some chemicals. With heat treatments, even the chemical-resistant bed bugs will be killed. Heat treatment will also get where chemicals can't reach. The bed bugs in the seams of your mattress, inside the couch, tucked in your rugs, etc. will all be wiped out. Another great thing about heat treatments is that they're safe for your family and your home. You won't have to worry about harmful chemicals. And Finally, heat treatments are fast. After just one treatment you get the results you want.
Stop trying to fight bed bugs on your own. Let us take them off your hands! We strive to respond as soon as possible. We'll most likely be there the same day or the very next day. Reach out to Moyer Pest Control to find out if heat treatments are right for you.