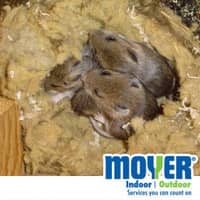 As we enter the fall season here in Pennsylvania there is a lot of talk about preparing the home for the winter. With things such as maintenance of your furnace and rodent proofing your home, the to-do list quickly grows. So why is this all so important? Well, when it comes to rodent proofing your home, you will be saving yourself from the many dangers of a mouse infestation as well as other pest problems.

When mice infest, it is not a matter of a rodent or two. They are prolific breeders whose numbers will multiply rapidly, which will leave you with a major problem on your hands. Now just think of what it takes to keep a large infestation happy. There has to be food, water and shelter. Mice and other rodents are commensal, which means they upon humans for survival. Our pantry items and other food keep their bellies' full; our clothing, drywall and other possessions give them shelter and are used to construct nests in which to breed and the list of how we help them thrive grows. If that's not enough, here are a few more reasons why it is so important to protect your Pennsylvania home from mice:


Contamination of food and other products with mice droppings

They are carriers of serious diseases such as Salmonellosis and Hantavirus Pulmonary Syndrome

Mice can carry other pest problems such as ticks, fleas and parasites onto your property

They cause structural and electrical damage from their constant gnawing

Mice in Pennsylvania are small and can squeeze through a crack no bigger than the size of a dime. So in order to protect your home from mice entering, you will need to be sure that there are no entry points for these rodents to gain access to your home. This includes sealing cracks and crevices around the foundation, windows and doors. Also, making sure that any utility openings are properly sealed.

To accompany your rodent proofing efforts, the Pennsylvania pest control pros at Moyer Indoor | Outdoor recommend signing up for one of Moyer's home pest control programs. You can trust that our experienced service professionals will not only get rid of your current infestation but help to protect your home and family from future pest problems as well. To learn more about how to protect your home in Allentown, Souderton and throughout Pennsylvania from the dangers of mice, simply contact us today!