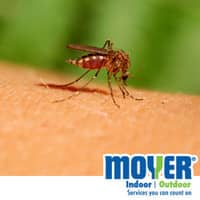 Oh mosquitoes… We sure do dislike these pesky bugs. They crash our outdoor gatherings, cover us in itchy mosquito bites and then have the nerve to take up residence on our property in order to reproduce more of their kind! So what's the best way to get rid of mosquitoes in West Chester and prevent every thing we just discussed? Keep on reading!
Before we answer that question, let's be clear on what products don't work well, or at all.
Bug Zappers
This is what the American Mosquito Control Association has to say on the effectiveness of Bug Zappers: "Bug zappers do indeed kill some mosquitoes. However, the only two controlled studies conducted to date by independent investigators at the University of Notre Dame showed that mosquitoes comprised merely 4.1% and 6.4% respectively of the daily catch over an entire season. Even more important was the finding in both studies that there was no significant difference in the number of mosquitoes found in yards with or without bug zappers."
Ultrasonic Devices
On their website, the AMCA also made clear that ultrasonic devices as a means of mosquito control are not effective. At all.
Mosquito Traps
The effectiveness of mosquito traps is still unclear. The AMCA points out that this type of product has potential but is by no means the best way to get rid of mosquitoes on your property.
So what will work? At Moyer Indoor | Outdoor, we offer mosquito control in West Chester and throughout our service area that consists of six monthly outdoor treatments during mosquito season (in our area, that's May through October). During each visit we focus on treating foliage, areas of vegetation, buildings, porches and patios, eaves and around windows and anywhere else you're likely to find adult mosquitoes resting. Click here to learn more about our mosquito management program.
Mosquitoes are more than a nuisance; there are a few mosquito-borne diseases that make these summer pests more threatening. They include the West Nile virus, Eastern Equine Encephalitis and more recently in the U.S., the Chikungunya virus. In addition to considering professional mosquito control, we encourage you to implement these mosquito prevention tips:
Repair or replace any torn or damaged window and door screens.

Applying a repellent that contains no more than 50% DEET to exposed skin and never on wounds or irritated skin. Pregnant and nursing women should consult their doctor before use.

Wear pants and long sleeved shirts when spending time outdoors. Mosquito activity is typically worse in the mornings and at dusk.

Eliminate standing water on your property as this is where mosquitoes breed.

Don't let ditches become stagnant and make sure gutters are clear of leaves and other debris.
Want to learn more about controlling mosquitoes? Contact Moyer's pest control division today!