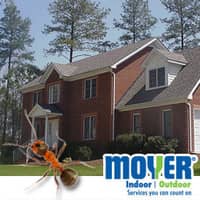 In Northeastern Pennsylvania we've seen unusual winter weather, and while it's still chilly, you may have started to see some surprise appearances of pests such as ants, termite swarms or ladybugs during the warm bursts that have made their way through our area. The presence of these pests in your PA home, even if it's still winter, means that there are likely to be problems when the spring season finally arrives.
Ants
Ants are generally on a search for food in your home so they can be found marching in lines straight towards your kitchen counter. Even through the winter ants can make their presence be known. Often times you are seeing the result of a satellite colony, which is one that has no queen ant, so no breeding is taking place, however there are still hundreds of worker ants who are actively seeking food sources. The problem is that even though they are not actively breeding new ants now, when spring hits, your ant problem can get much, much larger as other members of the ant colony, including the queen, come out of hibernation.
Termites
Termite season is just around the corner, with the warm air that has passed through our greater Philadelphia, we may see issues sooner than ever before. Although termite swarms have been a regular practice of termites in order to find a mate and form a new colony, we have started to see termite behavior change – and not for the better! Termites typically have designated swarmers whose only job is to take flight when the ground feels soft and damp and fly off in search of a new place to live and breed, this is usually inside a home, shortly after a homeowner would notice swarming. Now, there is no longer as many swarmers who are actively swarming, however they still exist and are creating more and more damage. Less and less homes are being inspected for termites, a combination of the recent downturn in the real estate market and the lack of preventative termite inspection programs used by homeowners, termites could be left undetected for years and without these swarmmers more damage could result to your home or structure. A proper termite monitoring system, such as Green Eye Alert, can help you catch termite activity early, before they become a major problem at your home.
Ladybugs
Ladybugs often spend their winter in your home to avoid the cold elements. On some warm days, even during the winter, you may spot a ladybug or two. Although this does not seem like much of a big deal, the problem is that ladybugs hibernate in large groups. So if you have spotted a few there are likely many more nearby. As the weather continues to get warm, you may notice your small ladybug problem grows into a much larger one.
All of these pests probably made their way inside before the winter even hit. But as we get closer to the spring season, they start to pop out of their hiding places and soon enough they will be back on the hunt for food, water, and an escape back outside. In order to keep your home protected from the damages and frustrations of a pest infestation, the Pennsylvania pest control professionals here at Moyer offer a few tips:
Eliminate food and water sources for pests inside of your home and around your property

If you spot any pests inside your home, you want to call in the professionals for an inspection and further tips for pest prevention

Do not use store bought sprays to try to remedy the problem yourself as you will only create a harder task of eliminating the pests; many do-it-yourself sprays, traps and baits can be dangerous to people and pets as often times they are used incorrectly. In the case of ants, do-it-yourself products can actually make the problem worse as "budding" can occur, which is where the colony actually splits and becomes 2 separate colonies, making elimination even harder.
If you are a homeowner in our hometown of Souderton, the Collegeville area or in any other towns in our Pennsylvania pest control coverage area and have spotted a few bugs this winter, Moyer Indoor | Outdoor can help! Our trusted experts in PA pest control will identify the source of the problem and eliminate it for good. Do not wait until the spring rolls around and you are in the midst of a home infestation, contact the PA pest pros today.