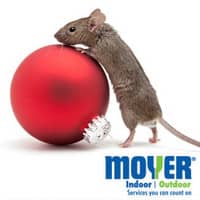 We have all heard the verse from the great storybook, "Twas The Night Before Christmas", "not a creature was stirring…not even a mouse", but unfortunately for homeowners in Souderton, Allentown and across Pennsylvania, the start of the cooler weather coincides with the holiday season, which can bring mice stirring around every corner of your home in search of a cozy place to overwinter.
Recently, we have told you what to look and listen for if you suspect you have a mouse in your house and we also told you what NOT to do if you did confirm an infestation of mice. I know right now you definitely have more pressing things on your mind with extra holiday chores to be done, but before the heavy snows start to fly, we at Moyer Indoor | Outdoor, a longtime PA pest control company would like to offer homeowners a few tips on how to keep the notorious Christmas mouse out of your house this holiday season.
Mice are extremely sneaky creatures and can fit through a hole no bigger than the tip of your pinkie so the first thing you should do is inspect around your home and seal any cracks and crevices, don't forget your foundation and around pipes and utility wires

Keep trees, shrubs and other foliage trimmed back away from your home

Landscape with crushed rock around your foundation; mice do not like to walk on uneven terrain so this is the perfect deterrent to keeping mice away from your home

Do not provide comfy accommodations for the uninvited Christmas mouse; store boxes and other containers off the floor and keep undisturbed areas neat and organized

To prevent access to a nice, cool drink, properly seal any leaks in and around your home

Deny mice a delicious Christmas meal by keeping people and pet food properly stored in glass or hard plastic, sealing containers, never leaving food and holiday treats on the countertops overnight and clean spills and crumbs from surfaces immediately; you should also plan on using garbage cans with properly sealing lids and removing trash regularly from inside
If your best do-it-yourself efforts to keep mice out this season are failing or if you are just too busy with holiday shopping, wrapping and cooking to mouse proof your home, don't worry, Moyer is ready to help! Our Home Pest Control program is the ideal solution when do-it-yourself methods aren't enough, to help you get rid of mice and prevent future infestations from occurring. For more information on our PA mouse control, please contact us today and Happy Holidays from the pest control experts at Moyer Indoor | Outdoor.