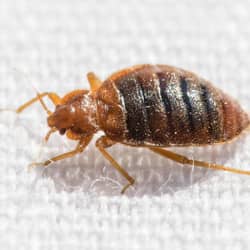 There is nothing quite like dealing with a bed bug infestation. When these bugs are discovered, they often cause great distress. Some describe their feelings about these bugs as one might describe a burglar breaking in. It can be traumatic, and there can be a feeling of violation. Why is this? It might be that there is something disturbing about bugs feeding on us while we sleep. Who knows for sure? What we can agree on is that no one wants to bring these home from a trip. So, we've put together a list of 10 ways to avoid doing just that.
Before you travel, check bedbugregistry.com and see if the place you'll be staying has had a bed bug report. While a report shouldn't necessarily stop you from staying there, it should give you a heads up that you should be more vigilant in checking for bed bugs if you stay there. It can also be beneficial to check Yelp! TripAdvisor, and other review sites.
Before you stay somewhere, don't be afraid to ask them what their bed bug plan is. If they have a quick answer, there is a good chance they are taking proactive measures to keep their business safe.

Before you leave, pack garbage bags or something that will allow you to keep your items safe from being invaded. When you take your clothing out of your luggage and tuck those luggage items somewhere in your room, it is smart to put them in a plastic bag.

When you get to your room, keep your luggage and other items in the hallway, or on the floor in the bathroom, while you check your room for bed bugs.

A quick inspection of your room is the single, most important way to protect yourself from bed bugs. Inspect your sheets and mattress seams for blood stains, fecal streaks, black fecal patches, and shed insect casings.

Know what bed bugs look like. It is important to know what these pests look like when you see them.

Bites are one of the warnings that bed bugs are present. Knowing that these bites look like mosquito bites, and often appear in a row or cluster, will help prevent you from bringing bed bugs home.

Be aware that bed bugs have a smell. If there are enough bed bugs present, there will be the smell of a dirty, wet towel.

When you take public transportation, be aware that bed bugs can be in these places. We often think of picking up bed bugs from our room, but they can also be in buses, taxis, and other public transportation.

When you get home, be sure to wash and dry all your clothing and bedding on the hottest temperature. This kills bed bugs in all stages of development. It only takes a batch of unattended eggs to create a bed bug infestation in your home.

Call in the professionals.
It is no fun to have a bed bug infestation. Keep an eye out for these pests when you travel, so you don't accidentally allow them to travel back home with you. For those of you in West Chester, if you do discover that you have brought them home, or suspect that they are in your home or business, contact the expert bed bug professionals here at Moyer Pest. We know how much of an inconvenient and stressful situation can be brought on by these invaders and we'll get them out for you quickly, safely and efficiently. Keep your home and business bed bug-free by partnering up with us!