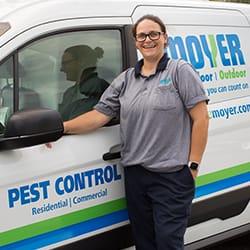 Your local pest control company is more than the phone call you make when you have annoying critters disrupting your happy home life. They are the professionals you can count on to be your partners in keeping your home and family safe and protected. At Moyer Pest Control, we have been servicing the Delaware Valley area for over 150 years, and are committed to protecting the families and businesses in our service areas.
Moyer Pest Control serves both residential and commercial customers. We provide year-round pest control plans as well as individual services for problem pests and emergency services. Our service area includes Pennsylvania, Delaware, and New Jersey, with our primary focus on Bucks, Chester, Delaware, Lehigh, Montgomery, Northampton, and Philadelphia counties.
Year-Round Pest Control
At Moyer, we offer three levels of year-round pest control with our Home Protection plans. Depending on the plan you select, we will perform four or six services per year. We treat for the most common pests that plague area homes. Our highest level plan, the Platinum Home Guard, includes termites, mosquitoes and stink bugs which are some of the most annoying pests and potentially the most damaging.
Targeted Pest Control
Some pests require unique treatment methods, and this is where our targeted treatments come in. At Moyer Pest Control, we provide K9 bed bug inspections and heat treatments to eradicate them. In addition, we offer mosquito treatments as a stand-alone service during mosquito season. We can also help if you have bee or wasp nests on your property that need to be removed or relocated, and we perform rodent and wildlife remediation.
Commercial Pest Control
Moyer Pest Control understands the unique pest control problems that commercial facilities face. Not only do you have employees and customers to protect from pests, but sometimes your licenses and reputation are on the line. We offer commercial pest control for restaurants, the hospitality industry, healthcare facilities, food processing plants, pharmaceutical companies, and more. Our integrated pest management approach for commercial facilities gives you a dedicated dispatcher and the tools you need to keep your business reputation safe.
Why Moyer
At Moyer Pest Control, our century-old business stands on its reputation alone. We strive to work honestly, with integrity, and to be partners with those in our community. If that isn't enough, we have a 100% satisfaction guarantee on our services. Contact Moyer Pest Control today to partner with the Souderton pest professionals you can count on.