How To Identify Bed Bugs In Souderton Homes
You've heard of bed bugs, you know they are not something you want in your Souderton home, but you may wonder what bed bugs look like, and should you be worried about a potential infestation? Read on to discover the truth behind bed bugs and how the most effective bed bug pest control in Souderton is always Moyer Pest Control.
Bed bugs are tiny, ranging in size from a couple of millimeters to roughly the size of an apple seed. Bed bugs are often transparent when they are young, making them very difficult to spot. As they grow, they begin to change color until they are eventually a reddish-brown or mahogany color. Bed bugs have antennae, and unlike many bugs, they only have six feet.
The Symptoms Of A Bed Bug Infestation In Souderton
Spotting a bed bug is more complicated than you might think. Their small size is one factor in why it may be hard to spot a bed bug infestation. Bed bugs are also quite shy, and they are excellent hiders. In addition, they are nocturnal creatures who only come out to feed while their hosts are sleeping.
Discovering a bed bug infestation often comes down to a few key signs:
Itchy bed bug bites appear on your body

Tiny spots of blood on your sheets or mattress

Small piles of bed bug feces that resemble salt and pepper near your bed

Empty eggshells or exoskeletons that have been shed
To spot a bed bug, you may have to do some searching. Look in cracks and crevices in your bedroom furniture with a flashlight, as these are some favorite bed bug hideouts. Also, lift mattresses and inspect box springs, bed skirts, and other key places around your sleeping quarters for any signs of an infestation.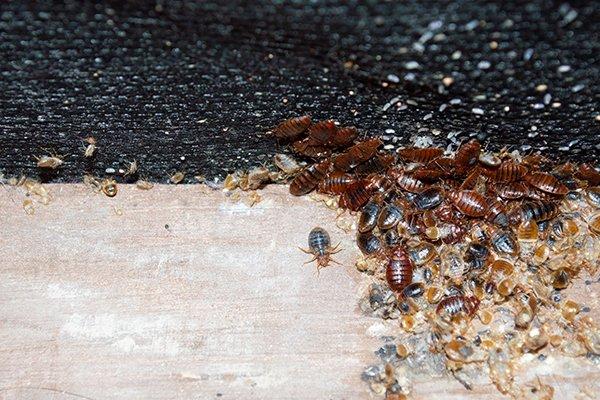 A Practical Solution To Bed Bug Infestation In Souderton
The most practical solution to bed bug control is Moyer Pest Control. From our free inspection to our customizable treatment options, we offer the best bed bug control services in all of Souderton. Don't waste time and money on at-home treatments that seem to take forever to work and can even be harmful to your family and pets if not used correctly; call our specialists at Moyer Pest Control today to schedule your free inspection!
Natural Bed Bug Prevention Tips For Souderton Homes
One of the most important things for homeowners in Souderton to remember is natural pest control for bed bugs: prevention. Learning how to prevent future infestations is key to natural pest control for bed bugs.
Follow these tips to ensure your family never has to deal with bed bugs again:
Be mindful of where your bags are while traveling. Some of the easiest places to pick up bed bugs are hotels, public transportation hubs, retail stores, schools and dorms, and offices.

When staying in a hotel, never store bags on the bed or floor. Bed bugs are excellent hitchhikers and will hitch a ride into your home right inside your luggage if you aren't careful.

Wash all clothing after traveling and linens after having house guests.

Thoroughly inspect used furniture before you bring it into your home. Avoid bringing in "free" furniture from curbs and dumpsters.

Vacuum bedrooms regularly.

Eliminate clutter under and around your bed.