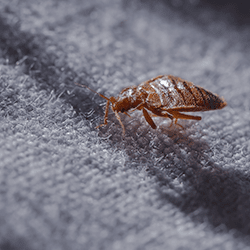 Last month we talked about how to avoid bed bugs while on vacation. Now, let's take a look at the other side of this problem. If you own a business that provides sleeping accommodations for vacationers, it is important to understand that your guests can bring bed bugs with them.
Bed bugs spread through a process called passive dispersal. It is passive because they don't spread on their own. We spread them around. When a bed bug climbs into a piece of clothing, we pick that clothing up and bring the bug to a new location. When a bed bug squeezes into the crack of a piece of luggage, we carry that bug on vacation. Bed bugs hide in all kinds of gaps, creases, cavities, and other hiding places. If they do this in a transportable item, those bugs are going to spread.
Often, a bed bug infestation begins with a batch of eggs. Not only do bed bugs hide in gaps, holes, creases, cavities, and other secretive locations, they lay their eggs in these places. And those eggs don't need the female bed bug in order to hatch. If your guests bring eggs into your establishment, they could hatch during their stay. It takes less than 10 days for bed bug eggs to hatch (at a temperature of 72°F.)
How do you prevent guests from bringing bed bugs or bed bug eggs into your business? Well, you can't, really. Your guests wouldn't take kindly to having their items inspected for bugs. So, you need to do the next best thing: routine room inspections.
There are 2 ways to have rooms routinely inspected. It can be done by a human inspector or by a K9 inspector. At Moyer, we prefer K9 inspectors because dogs are incredibly accurate and are able to do inspections quickly, without disturbing the items in the rooms. Human inspectors have to move things around to do their detailed search.
There isn't a lot you can do about keeping summer guests from bringing bed bugs into your business but, with the help of a pest management professional and K9 inspectors, you can quickly detect and eliminate bed bugs before they become a problem for the next guest.
If you live in Telford, West Chester, or our Pennsylvania service area, let Moyer Pest Control help you create a bed bug plan that will keep you business bed bug-free.