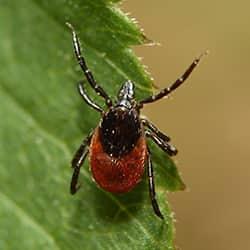 Did you know that where you live determines what kind of pests you'll have to deal with? Certain pests need specific environments to survive. For example, you won't find many termites around buildings made primarily of brick and stone as they are pests that only feed on wood-like materials. In the same way, ticks are not common on properties where there is a lack of tall grass and forested areas. So ask yourself, is there any tall grass or forested areas around my home? If your answer is yes, then ticks are a pest you have to worry about.
Why Ticks Can Be a Problem in West Chester Lawns, Especially During The Summer
Sometimes it can be tough to keep up with your lawn during the summer. If you have ever mowed, had it rain, and then had to mow it again just a few days later, you understand the struggle. Often, grass can overgrow, and ticks can find their way in. This poses a few problems. For one, if you have kids that enjoy spending time outdoors or pets that you let out frequently, they run the risk of bringing home clinging ticks. When you find a couple of ticks in your yard or the surrounding woods, outside begins to feel like a no-go zone.
Other Factors That Draw In Ticks
Besides tall grass, several other factors can draw unwanted ticks onto your property. Some of the areas you'll find ticks are in vegetable gardens, flower gardens, log piles, bird feeders, compost piles, playsets, and outdoor lounging areas. Now we know what you are thinking—is there anywhere you can go outside that doesn't run you the risk of coming back inside with a tick? Our answer is—there can be.
How To Keep Ticks Off Of Your Property
Despite there being so many places that ticks hide outdoors, there is one simple way you can make your property a tick-free zone—invest in tick treatments done by the pros here at Moyer Pest Control. With just a single visit from one of our pest experts, we will have your property not only tick-free but guarded against any future tick problems. If you are wondering what this would look like for your property, give Moyer a call today! One of our trained service representatives is standing by and ready to find a plan that will work for you.