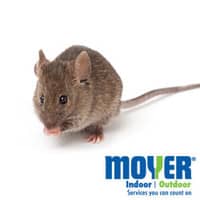 In the wintertime, many homeowners in PA struggle with rodents such as the house mouse. These pests are not welcome visitors, as they are known for spreading disease, contaminating food sources and damaging the structures of your home. The following are some helpful tips from the home pest control professionals at Moyer to help you prevent an infestation of rodents in PA.
Don't allow rodents to get into your home. That sweet adorable Christmas mouse is not so sweet and not so adorable; it will find a hole in the exterior of your home and gnaw at it to make it larger. It will then enter your home and search for food and a good place to hide. To eliminate entry points, check around the exterior of your home, especially areas around doors and windows and make sure any possible entry holes are filled with silicone caulking or expandable foam.

Remove crumbs and spills so that rodents don't have anything to eat. Keep food in your pantry stored in plastic, glass or metal air-tight containers and never leave food on counters or dirty dishes in the sink. Protect pet food and make sure your kitchen is clean, paying special attention to areas around, under and behind appliances.

Pick up the clutter to eliminate possible rodent nesting areas. Make sure that storage boxes in basements or attics have tight fitting lids and regularly clean undisturbed areas inside your home, including in rarely used closets, the attic and the basement.
Preventing a rat or mouse infestation in your home is important; when these pests get into your home, they can spread diseases including Hantavirus, bubonic plague, salmonellosis and even rat-bite fever. They also can bring in ticks and fleas, which can spread to your pets and even to you! These pests have also been known to chew up your personal belongings to create their nests or gnaw on electrical wires, which can lead to an electrical fire in your home. Obviously having these pests inside your home is less than ideal, so if you should find yourself hosting rodents this holiday season, you'll want to get them out, and fast!
To eliminate rodents in your PA home, give the professionals at Moyer Indoor | Outdoor a call. Our rodent control services will eliminate these pests quickly and effectively; our technicians may even offer you helpful tips in preventing these pests in the future. Contact our professionals today if you have seen signs of mice or rats in your home, including mouse droppings, rat droppings, smear marks along walls and chewed belongings.