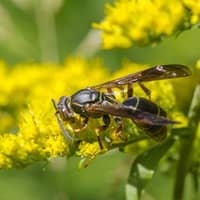 Procrastination, the art of waiting till the last possible second to frantically complete a task you've had plenty of time to do, has seldom worked throughout history. But there are some brave souls who have succeeded where others have failed. There's a rumor of a grad student who, under the influence of 18 Red Bulls, completed his doctrinal thesis in the five hours before its due date. Sadly, the secret of his success, and how he consumed 18 Red Bulls and survived, has been lost in the hollows of time. Procrastination is one of those 'do not try this at home' kind of things, especially when considering spring pest protection. The sooner you act, the safer you will be.
Here is proactive prevention looks like.
Find and seal any cracks in the exterior foundation of your home.

Equip your windows with proper screens. Holes and tears in old screening provides and entrance for bugs to get into your home.

Make sure any doors that are opened for fresh air in the summer also have proper screening. Winter can damage any screens left out. Make sure to replace all inadequate screening.

Keep ventilation systems clean and running.

A cluttered home is a bug paradise.

A Dirty home is a bug paradise. Clean floors, counters and rugs routinely.

If you plan to store items in your attic, consider using thick plastic totes. These will keep pests from using cardboard boxes as a nesting area or laying their eggs in them. It could also say you from opening the box later and having a good scare.

Do a full deep cleaning of your home, including stove sides, under the fridge, and around appliances. Get every nook and cranny because pest don't mind squeezing into those areas. Routine cleaning is good to keep bugs away, but make sure to do a deep clean every so often.

Don't leave fruit out for pests to eat.

If you see spider webs, knock them down with a broom.

Keep your garbage sealed.
If you wait until spring is already in full swing, you risk pests invading your home. And some are much worse than others. If your house is already compromised, contact a pest expert immediately and have them do a full inspection of your home. They will humanely rid your home of any unwanted guests. Spring is when pests become active again. Be proactive and act now before its too late.