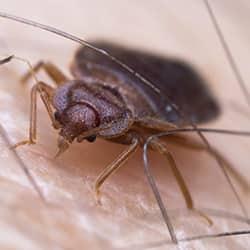 You've been waiting all spring for summer to arrive to spend your days at the beach in Florida, basking in the rays of that warm, radiant sunshine. Or maybe you've been wanting to travel to a historic landmark to learn more about the past of our country. Perhaps you're even taking this summer vacation slowly with long hikes in the woods and weekends with your friends. All of these fun summer activities are common to take part in as soon as warm weather hits. However, you may not be aware that these activities could end with a bed bug infestation in your Souderton home.
The key to figuring out how all of these activities can lead to a bed bug infestation in your home is to look for something each of them has in common. If you consider every single one of these activities carefully, you may notice that the thing they have in common is simply the fact that they all include several people in one location. Beaches have people from all over the country gathering in one place, often with several beach bags and towels that they brought from home. Historic landmarks are often tourist hot spots, where people from all walks of life gather to learn about our history. Bed bugs are expert travelers and hitchhike from one location to another by clinging onto our clothing, bags, or personal items.
Naturally, this means that bed bugs are going to be more common and widespread when more people are traveling around. During the summer, many people take vacations to other states or just a few hours away. Unfortunately, several people may have an unwanted traveling buddy this summer without even being aware of it. Once a bed bug has climbed onto you or some of your belongings, they are only a step away from being introduced to your Souderton home.
If bed bugs make it into your home this summer, there is almost no way to get them out on your own. Bed bugs are masters of stealth and will hide in areas most Souderton residents wouldn't even think to look. It is important to take as many steps as possible to reduce the risk that your property will become home to bed bugs.
Some precautions you can take this summer include:
Before heading into your home, always check yourself, your children, and your belongings for both adult bed bugs and the tiny white eggs they leave behind.

Try to avoid bringing bed bug-infested used furniture into your home by inspecting those furniture items before bringing them inside.

Avoid staying in hotels or motels that have a bed bug problem. Check reviews and determine whether or not they are protected with a bed bug control plan.

If you happen to find bed bugs in your hotel room, ask to be moved to a better room, or check into another hotel.

If possible, try not to set your bags or personal items down in public locations such as public transportation, airports, schools, or daycares.
Sometimes, no matter what you do to try and stop them, bed bugs will still manage to find a way into your Souderton home. Bed bugs are difficult (or even impossible) to remove without the help of a professional pest control provider like Moyer Pest Control. Here at Moyer, we provide K9 inspection services and effective bed bug heat treatment options that are proven to work every time. Keep your Souderton property protected this summer with a little help from the professionals here at Moyer Pest Control! Reach out to learn how our pest control solutions can benefit you!