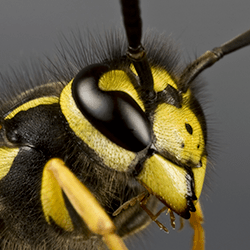 As we approach the end of the summer season, we begin to think about Labor Day picnics and wrapping up our summer fun with as many outdoor activities we can squeeze in! We also start forgetting about all those pests that bugged us all summer long as we think they'll leave us alone soon. Unfortunately, our problems with stinging insects are far from over! In fact, during the late summer in West Chester, wasp and yellow jacket populations swell! It is important that we remain diligent in protecting our homes and families from these unwanted pests as we head into the final lazy days of summer.
The queens of these stinging insects colonies work hard all summer to grow their populations. After the queens have laid their eggs, those eggs will mature into active adult wasps and yellow jackets that will begin laying more and more eggs and the cycle will start all over again. By the end of summer, there can be hundreds of stinging insects in these colonies!
As their populations increase, these stinging insects will become more problematic as they fly around in search of food. These stinging insects can become quite aggressive when looking for nourishment. Wasps and yellow jackets are both attracted to sweet foods. As a result, they will invade your summer picnics in order to gain access to your watermelon, lemonade, pies, fruit salad, soda, and other delicious treats.
There are a few precautions you can take to reduce the risk of your family and your guests being stung by wasps and yellow jackets this summer:
Cover up food with food tents, lids, or plastic wrap or keep them it inside a screened porch or in the house during parties and picnics or when dining al fresco
Eliminate water sources around your property as they attract stinging insects
Keep flowering plants away from outdoor areas where you be spending a lot of time
Be diligent in looking for nests so that you can contact a professional and have them removed immediately
Avoid wearing perfumes or strong-smelling lotions when spending time outdoors
Do not attempt to remove a nest yourself as it can be very dangerous and can have painful and sometimes even life-threatening consequences! If you are having problems with wasps, yellow jackets, or other stinging insects on your West Chester property, Moyer Pest Control should be your first call! One of our highly-trained technicians will come evaluate your yellow jacket or wasp problem and safely remove the nest. We will also suggest one of our service plans to help protect your West Chester home from stinging insects year-round! Contact us at Moyer Pest Control to learn more.