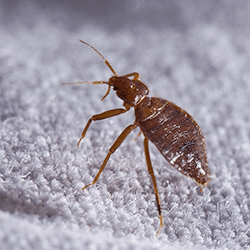 Since the turn of the century, bed bugs have been spreading throughout the United States at an alarming rate. As we enter 2018, it seems as though few business sectors have been left unaffected. Here are 3 industries most impacted by bed bugs.
Hospitality
Whether you own a large resort or a set of hunting cabins in the middle of the woods, bed bugs can be a threat. These hitchhiking bugs go from one area of infestation to the next by riding in the belongings your guests carry in with them. Businesses that have beds are especially susceptible to a bed bug infestation. These insects are mostly nocturnal and prefer to feed under the cover of night.
Property Management
When bed bugs infest a home, the infestation is isolated to that home. In a large building with many rooms or residences, bed bugs can pass from one room to the next by way of wall voids. This can turn into a sensitive situation. Every property manager should have a plan to address these bugs before and after they appear.
Retail Facilities
As bed bugs spread from one location to the next, they can accidentally crawl off at any point along the way. If you own a retail store, be aware that bed bugs lay eggs on clothing. If a batch of eggs hatches in your store, they can survive by biting employees when they sit or lounge in break areas. Bed bugs are not limited to only feeding at night. It is important for every retailer to know what bed bugs look like so an infestation isn't able to grow.
At Moyer Pest Control, we support businesses with industry-leading commercial pest control that consists of routine inspections, training of employees, and targeted bed bug treatments.
At Moyer, we trust K9 inspectors to find bed bugs quickly. Dogs have an incredible sense of smell. It is almost like x-ray vision. This ability helps our human inspectors work quickly to find locations of infestation, and to make sure no bed bugs remain after treatment.

Every business needs to have employees that know how to keep bed bugs from having a negative impact. At Moyer, we make sure everyone is on the same page.

When bed bugs appear, the QualityPro-certified team here at Moyer has the experience and education to make sure those bugs are fully exterminated.
If you own or manage a business in our Pennsylvania service area, reach out to Moyer today to establish a bed bug plan you can trust. Our team of friendly professionals is looking forward to serving you.