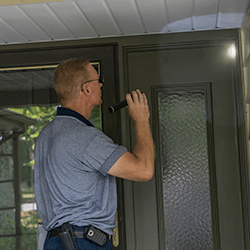 Homeowners regularly protect their homes with homeowner's insurance as protection against unforeseen issues. They inspect the property regularly making sure gutters are draining, appliances are working, windows are sealed properly, there are no structural issues and more, to be sure that larger problems are avoided in the future. One thing homeowners often overlook though is pest control. Rodents, insects, birds, bats and other critters can cause tremendous amounts of damage to your home and property. Having a pest control plan in place can help prevent future problems, consider it additional insurance for your home!
There are many signs that you might need pest control. Usually, the most obvious sign is seeing rodents, bats, or harmful insects in your home. Additionally, you may not see the critters themselves, but you might see obvious signs of them such as rodent droppings, discarded insect wings, or webs and nests. Some less obvious signs may include wood shavings from termite damage, odd noises in the walls, disturbed areas around your foundation, or chewed wires or furniture and fixtures. Don't wait until you see signs that you need pest control in your Newton Square home. By then you might be looking at costly repairs and may be dealing with exposure to diseases from the pests. Consider a prevention program with year-round pest control.
You can eliminate the worry of pest damage to your home with a year-round pest control plan from professional pest control experts like those at Moyer Pest Control. There are several benefits to a year-round plan:
Regularly scheduled visits

Protection from pests before they become a problem

Treatment for pests that may already be causing issues

100% satisfaction guarantee

Plans for every budget

Indoor and outdoor treatments
How our programs work:
The program starts with a professional consultation

Our professionals will them develop a plan that suits your property and pest issues

Service visits scheduled that don't require you to be home

If problems arise between scheduled services, we will return at no additional cost to you
You want to protect your Newton Square home before pests become a problem. Rodents and bugs can cause structural damage, carry disease, and can be a general nuisance. Your family and your home deserve to be safe and protected and the professionals at Moyer Pest Control can help!