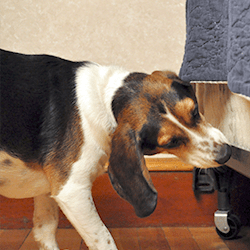 Dogs have an amazing sense of smell. It is so powerful they are able to detect explosives hidden in luggage, use the scent from a shirt to find a missing child, smell for blood on a crime scene, detect up to 18 different kinds of toxic molds, and even sniff out illicit mobile phones and other contraband. The list of things dogs have been trained to detect is extensive. They have been used by law enforcement, and a wide range of other professionals, for years. Now they're beginning to take their place in the vital role of bed bug detection.
The process of training a dog to smell for something is based on a reward system. If they find the smell the trainer wants them to find, they are rewarded. Our dog Scout is rewarded with food because beagles are extremely food-driven canines. It takes a lot of practice to get good at detecting bed bugs, but Scout has put in the long hours to get his detection skills to 98 percent accuracy.
If you're thinking that 98 percent just isn't good enough, bear in mind that the accuracy rate of human inspectors is about 35 percent--and Scout can do his job without having to disturb any of the items in a room. That means he can move quickly through a structure and inspect as many as 100 hotel rooms in a single day.
Sniffing for bed bugs isn't easy. It takes intensive training and requires a dog with the right temperament. Our dog Scout was an expensive investment but we have never regretted it at all. He was trained in a uniform program at J&K Canine Academy and is certified by the National Entomology Scent Detection Canine Association. And he has a genuine love for the hunt!
Scout can sniff out everything from nearly invisible eggs to adult bed bugs. He is used in pretreatment inspections to target infested areas and post-treatment inspections to ensure that all bed bugs are gone. And no task is too small. He is sometimes called on to sniff luggage for homeowners returning from vacation.
Scout is a valuable member of our team, and we couldn't do the effective job we do without him.
If you own a home or business in Pennsylvania, and you need bed bug control you can trust, reach out to Moyer Pest Control. We can help you stop bed bug infestations before they begin with a little help from Scout, our in-house K9 bed bug inspector.