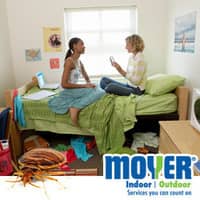 Bed bugs love college, but not for higher academic achievement ... they come for the food. College is like an all you can eat buffet filled with choice entries, like: chinese food, mexican food, caucasian food, and more. They crawl through every nook and cranny with sheer rapture, taking in all the succulent choices. But you don't have to be on the menu. Here is a quick guide every college student needs to avoid bed bugs.

Check your room.

This is going to sound a little over the top, but before you settle into your new home, take a flashlight and check for bed bugs. They are tiny little brown tick-like bugs, well, tiny if they haven't engorged themselves on a blood meal recently. And, if they haven't had free reign to eat as much blood as they want. But most often, they are tiny brown specks.

You'll find them in the corners and edges of mattresses and box springs, in couches and chairs, in curtains, and other cloth items. If you find one, there is a good chance you'll see a lot more.

Make your room less appealing than your neighbor's room.

Bed bugs are hitchhikers. They hitch a ride in socks, shoes, bags, boxes, hoodies, and furniture. As a side note, if a friend wants to give you a piece of furniture for your room, make sure your friend didn't get it off the side of the road, because a single female bed bug can give birth to as many as 5000 babies in a six month period. If there is even one female bug in that chair, you're in trouble.

Bed bugs enjoy dirty, cluttered environments so don't give them one. When they hitchhike into your room, let them find it clean, and in order. Vacuum regularly. Keep dirty clothing off the floor. Clean surfaces with a disinfectant. If you spill anything, especially on your bed, clean it immediately, and dry it with a fan. Always wash your clothing on the highest temperature and dry on the highest temperature. Don't leave crumbs on plates, or cups with leftover beverage and wash your bedding regularly.

If you follow these simple practices, you'll greatly reduce your chances of having bugs stay in your room.

If you hear of a nearby infestation take extra precautions.

If you hear that the room next to you, or below you, has bed bugs, it is good to take some extra precautions. Get a mattress cover for your bed, to keep bugs from getting into it. If bugs have already gotten into your mattress, this will seal them in there.

Seal your clothing in plastic zip lock bags, and wrap your suitcases in plastic. Bed bugs will hide in your bags and lay dormant till they get to your home. Trust me. You don't want them to go home with you.

Increase your vacuuming, and vacuum cloth chairs and curtains. This will pick up any exploring bugs.

If you find the bugs first.

If you find a bug you suspect is a bed bug, catch it, and contact your RA immediately. If the RA does not take action, you can also contact the local department of health. Bed bug infestations are just plain gross, and a massive inconvenience for everyone involved. With these common-sense practices, you can make your dormitory stay a much more pleasant one.