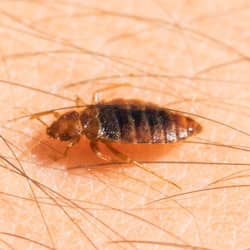 Mostly wiped out in the U.S. by the widespread use of DDT in the 40's and 50's, bed bugs have really made a comeback in the last decade or so. These creatures have developed an amazing ability to build immunity to the pesticides that we once used to eradicate them and have become a huge problem in recent years. Huffington Post even labeled the problem a bed bug pandemic in 2010. Today, bed bugs continue to plague homes and businesses across the country and right here in Pennsylvania.
The problem is, bed bugs are very easy to transport - and you don't even know you have done it. Adult bed bugs and their eggs,which are sticky, white and nearly invisible, can be found anywhere people are. Homes, offices, hospitals, hotels, apartment complexes, dorm rooms, laundry mats, trains, planes, taxis, and buses - you name it and they can be there. And they're not just a pest problem for city folks. Bed bugs are just as likely to show up in the suburbs. After all, their favorite meal is human blood and that can be found in every town.
Are you concerned about bringing bed bugs home from a business trip or maybe after a quick stop at the mall? We understand your worry and have put together a few facts to help you better understand these pests and how to identify an infestation. After all, early detection is the best way to control bed bugs.
There are 3 stages of life: eggs, nymph, and adult

You cannot see the eggs or nymphs – they are too small and whitish in color

Adult bugs are reddish/brown, are about the size of apple seeds and don't have wings

Bed bugs are mainly nocturnal

They usually feed on exposed areas like hands, face, neck or arms

They may leave behind small blood spots on sheets after they bite

You might also find small, brown fecal spots on mattresses

Bed bugs hide everywhere - not just the bed

Throwing out an infested mattress is not an effective means of bed bug control

Bed bugs NEVER go away on their own
If you find that you have to deal with these bugs, don't go it alone! Here at Moyer, our pest control team is ready to help you battle your bed bug problem. Put our trained bed bug dog, Scout to the test. With a 98% accuracy rate, an inspection performed by this canine can be completed in minutes rather than hours. And because our K9 inspector accurately identified the infestation, we'll only treat areas affected by bed bugs, saving you time and money!
When you choose Moyer for bed bug control, you can count on our discretion. We realize bed bugs are embarrassing for homeowners and have the ability to tarnish a company's reputation, we'll deal with the infestation quickly and quietly.
Serving Souderton, Newtown Square, West Chester and communities throughout Bucks, Chester, Delaware, Lehigh, Montgomery, Northampton and Philadelphia counties, Moyer Indoor | Outdoor is ready to help you eliminate bed bugs from your home or business. Contact us today.