Main Line To Philadelphia
Berwyn, PA located in Chester County is part of the Philadelphia suburbs that are fondly referred to as the "Main Line". Berwyn is full of residential neighborhoods that people are proud to call home. There are many pests like stink bugs, ants, spiders, mice, bed bugs, and mosquitoes that also really enjoy living in Berwyn.
The pest professionals at Moyer Pest Control have been in the business of protecting Pennsylvania homes from those pests and many others for over 140 years. To protect your home and property from Pennsylvania pests, trust the local pest professionals at Moyer Pest Control!
Biting Insect Control In Berwyn, PA
No homeowner wants any kind of pest invading their home, from the teeny tiny to the big and furry, but people especially want to keep biting pests out of their homes and away from their families. Two common biting pests in the Berwyn area include bed bugs and mosquitoes - both feed on your blood and both should be treated by professionals to protect your family from their parasitic ways.
If bed bugs have invaded your Berwyn home don't panic, call Moyer, we have safe, effective bed bugs services that will eradicate your home's infestation and allow you and your family to sleep soundly once again. Our bed bug control solutions include a K-9 inspection and a customized bed bug treatment plan to make sure that your home's specific needs are met.
Mosquitoes are a pest that are not usually problematic in homes, but that can limit the amount of time you can spend outside enjoying your yard. Mosquitoes are not only annoying but they have the ability to carry and transmit serious diseases. The professionals at Moyer Pest Control have developed a very effective treatment solution to greatly reduce the numbers mosquitoes found living and breeding on your property. Our mosquito control program provides our customers with 6 monthly outdoor treatments during mosquito season, May thru October.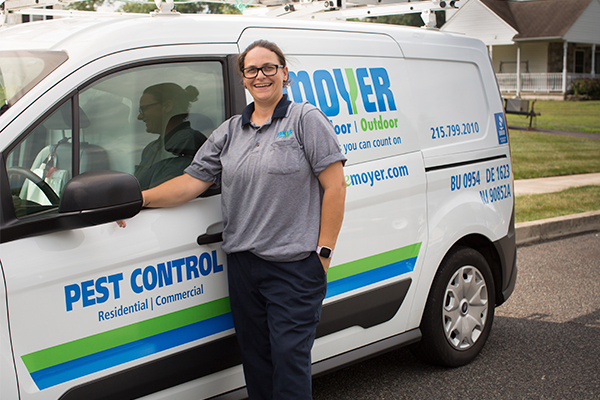 Berwyn, PA Home Pest Control
Pests inside of homes are more than just a "pest," they can cause damages to the structure of your home, contaminate food sources, destroy personal items, and even transmit some pretty serious diseases. In order to protect your home and family from pests and their dangers a home pest control program should be put into place.
A year-round home pest control program will eliminate any current problems with pests and provide routine services to prevent future problems. Never again finding a line of ants marching through your kitchen or have noisy crickets living in the basement, what could be better?
At Moyer Pest we understand that no pest problem is the same so in order to provide the best possible pest control services for each of our customers we develop individualized treatment solutions. Our three home pest control programs can all be adapted and customized to fit your home's needs. To see which of the home pest control programs- Exterior Home Guard, Platinum Home Guard, or Complete Home Guard is the best fit for your home, give us a call today.
We're Ready To Help
Get started today! Schedule now or call for more information.
Stink Bug Control In Berwyn, Pennsylvania
Stink bugs live up to their name, they give off a very potent smell when they feel threatened or when they are squished. To make matters worse these stinky pests often choose our homes to invade and overwinter inside of.
In addition to taking your own preventative steps around your home like caulking gaps found around windows, installing door sweeps, and replacing torn screens in windows and doors Moyer has developed two effective stink bug treatments. Our treatment focuses on the outside of your home and relies on micro-encapsulated materials that are time released. Our stink bug treatments run from late August through October.
3 Reasons To Choose Moyer For Berwyn, PA Pest Control
We can think of a lot of reasons why you would want to choose Moyer to control pests in and around your Berwyn home. Listed below are three of the reasons why Moyer should be your top choice for pest control!
Longevity; Moyer was established in 1869. We have deep roots in our local communities and are committed to providing our customers with services that are a combination of tried and true solutions and state of the art solutions.

Honesty; since the beginning Moyer's number one focus has been on the customer. We take pride in providing honest and affordable services to all of our customers.

Our pest control professionals are highly trained and experienced. All of our experts are more than capable of taking care of any pest problem, no matter what the size of the infestation. Our professionals understand the pest control needs of our local customers and deliver professional quality pest control services in a friendly, timely, consistent manner!