Pest Control For Ambler, PA
Moyer Indoor | Outdoor, formerly Moyer & Son has been servicing Ambler, Pennsylvania and surrounding communities for over a century. We proudly offer residential and commercial services for pest control to serve all your pest needs. Our state-of-the-art technologies combined with our outstanding customer service ensures our commitment to excellence and a job well done.
No matter what pest issue your Ambler home or business may be facing, the team at Moyer is here to help.
Ambler Home Pest Control Services
Are you concerned about pest infestations in or around your home? Fortunately, Moyer offers an array of residential pest control programs to protect you and your family from pest activity. Who wants to deal with large ants or cockroaches? How about spiders or termites
Let Moyer's Home Pest Control Programs prevent potentially damaging insects from entering and spreading throughout your home.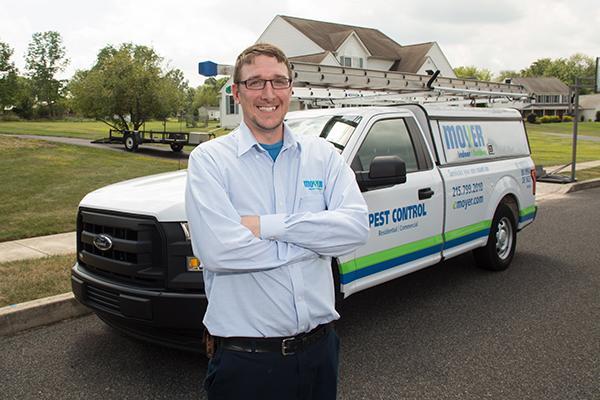 We offer three comprehensive plans tailored to your individual needs:
Exterior Home Guard program includes 4 service visits every other month, in-season.

Complete Home Guard program includes 4 quarterly services per year, 3 exterior and 1 interior.

Platinum Home Guard program includes 6 scheduled services every other month in addition to services that control termites, mosquitoes and stink bugs.
For more information on how we can protect your home from pest infestations, contact a representative at Moyer Indoor | Outdoor today.
What Stinging Insects Are A Problem In Ambler, PA
Stinging insects have long been a summer problem in our area of Pennsylvania. Every year, they send more than 500,000 people to the emergency room. It is often the case that stinging insects are more active during the second half of the summer.
Some of the stinging insects buzzing around Ambler homes during the warmer months include:
Honey Bees

Yellow Jackets

Wasps

Hornets
Unfortunately, while they see their highest activity in summer, the warm climate Ambler provides allows wasps and yellow jackets to stay active for a large part of the year. Are you looking to enjoy spring, summer, and fall at your Ambler residence? Pests and stinging insects have the potential to ruin a fun family barbecue or get-together with friends.
Luckily, there are numerous precautions you can take in order to protect yourself from yellow jackets, wasps, and other stinging insects. Moyer Pest Control recommends the following tips:
Wear clothes that cover your body, such as closed-toe shoes, long sleeves, and pants. In addition, do not wear brightly-colored or floral patterned clothing.

Refrain from using sweet-smelling products such as perfumes, shampoos, etc that can attract insects.

In the event of a barbecue or outdoor eating event, keep the food refrigerated or stored in sealed coolers until it's ready to be served.

As always, keep trash stored in cans with tight-fitting lids and store far away from people.
If you see any of these stinging insects around your home or find a wasp nest on your property, contact the Ambler, PA exterminators at Moyer Indoor | Outdoor as soon as possible to take the sting out of your summer!
We're Ready To Help
Get started today! Schedule now or call for more information.
Other Services From Moyer
In addition to our residential pest programs, we also offer a variety of other pest solutions for your convenience. Our Ambler pest control pros can provide you
We also offer the following services for all of your home improvement needs:
Plumbing, Heating & Air Conditioning

Water Quality

Heating Fuels

Radon Protection
For more information on our pest control services in Ambler, contact Moyer Indoor | Outdoor today!
Serving Ambler, Pennsylvania – 19002