Brick Sidewalks, Award-Winning
Dining Options, Multiple Parks, & Pests
One of the world's best-kept secrets is nestled among the rolling hills and towering mountains of Pennsylvania. The historic town of West Chester is one of twelve distinctive historic destinations in the United States listed by the National Register of Historic Places. Incorporated in 1799, this town offers a sense of true community.
There's only one downside to living in this gently pastoral area, the insects and rodents that call West Chester home. To combat these pests, the professionals at Moyer Pest Control provide pest prevention and extermination, including:
Differing levels of home care plans for every customer's unique needs.

Mosquito and stink bug control through preventative, seasonal treatments.

Bed bug treatments with an initial K9 inspection.

Termite prevention and extermination with Termidor.

Residential and commercial pest control plans.
To learn more about what we offer, give us a call and speak with one of our friendly staff members. Your service is our priority!
Home Pest Control Services In West Chester
Nuisance ants, carpenter ants, roaches, spiders, silverfish, and mice – Oh my! Some of these pests are mere nuisances. Some may cause extensive and expensive damage. Save yourself time, fear, and energy by choosing one of Moyer's home pest control programs.
You will rest easy knowing that our pest control operatives are on the case, removing pests that may undermine the health, safety, and general well-being of the ones you love the most.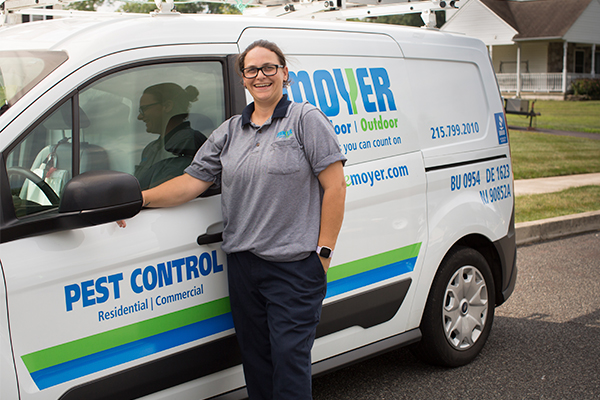 Professional West Chester, PA Termite Exterminators
Lurking in the shadows of our community, the destructive and dangerous termite can cause rapid home destruction on a wide scale. These ravenous wood eaters can go undetected for months, or even years, causing severe damage.
The only way to typically detect these creatures is to watch for winged termites that swarm in spring and early fall. Spotting these swarmers in or around your yard is cause for concern. Sills, framework, and support beams deep in your house are all at risk for severe damage through termite infestation.
Fortunately, there are actions you can take to make your West Chester home less attractive to termites:
Keep your foundation free from overgrown, woody plants and mulch.

Fix leaks in plumbing and AC units quickly to keep moisture from penetrating the wood beneath.

Keep firewood stored at least 20 feet away from your home and up off the ground.
Even with your best efforts, the best way to prevent and eliminate termite activity is to call a professional pest control company like Moyer. Our experienced termite exterminators will evaluate and implement a termite control solution that effectively exterminates your termite infestation, as well as preventing new activity from arising.
Moyer gives you quick, quality, and guaranteed termite control for your safety and protection no matter the time of year.
We're Ready To Help
Get started today! Schedule now or call for more information.
Moyer Takes The Bite Out Of Bed Bugs In West Chester, PA
An old nuisance that has made a frightening resurgence in recent years is the bed bug. These tiny pests have a few notable features that clearly distinguish them from any other household critter that could be giving you itchy, red bites.
Bed bugs have three stages of development: the egg, nymph, and adult.

The eggs are whitish in color and about 1 mm in size, making them nearly impossible to detect.

The nymphs are also white or cream-colored and can fit through a fabric stitch.

The adult is reddish-brown in color and about the size of an apple seed. They appear flat and oval-shaped and are about 1/4 of an inch in size.
These creatures are not an indication of poor sanitary conditions. Bed bugs can be found in any location, no matter the level of cleanliness. They can live in beds, chairs, under rugs, inside wall voids, and many other places. An adult bed bug can go for many months without eating. Once an infestation has occurred, bed bugs are nearly impossible to eradicate without the help of trusted professionals.
If you suspect that these pests have taken up residence in your home, contact Moyer for help. Our bed bug control pros will assess the situation and outline steps to exterminate the infestation. Reach out to Moyer and be bed bug-free once again.
Commercial Pest Solutions From Moyer
Pests are a problem for business owners of all kinds. When your business is invaded by multi-legged, unwanted clients, it's not just your building you have to worry about. The appearance of one pest can damage your reputation, customer base, and ultimately your bottom line.
Here at Moyer, we offer the West Chester community effective commercial pest control programs that are tailored to your specific needs. Our Integrated Pest Management approach provides the elimination of current pest issues with safe chemical applications and preventative measures to ensure that the pests won't return.
In this competitive marketplace, it is important to maintain your edge. Moyer Pest Control can help.
Why Choose Moyer For Pest Control In West Chester PA?
For over 140 years, Moyer Pest Control has been committed to a level of excellence that few companies achieve. Our professional staff members undergo yearly training to ensure you receive the best possible pest control services.
Moyer is committed to honesty, integrity, and impeccable service, all traits that have become the token business card of our company. At Moyer, we believe the success of West Chester is built on the foundation of neighbors working together. Our name is important to us. Trust us to protect yours, too.