Mosquito Prevention Tips
Do you know that when you get bitten by mosquitoes in your backyard, those are mosquitoes that live in your yard? Mosquitoes don't have good eyesight, so they can't see you come out of your home and zip over from your neighbor's yard or a nearby wooded area.
They zip over to your from the vegetation on your property. This is important to understand because this insight can give you the motivation you need to change things on your property to reduce mosquito populations. You can make a difference and your hard work can have an impact. Here are some tips to deter mosquitoes from your West Chester property.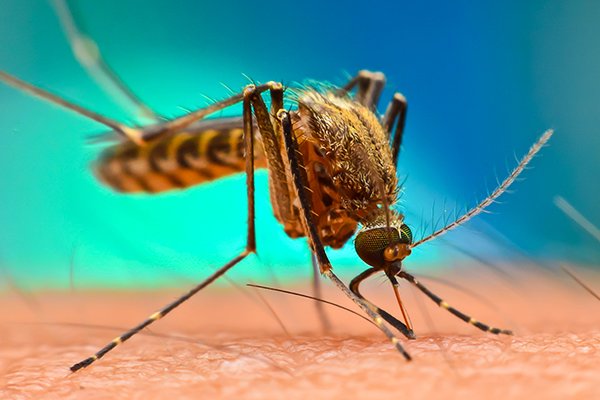 Remove Stagnant Water Sources
Mosquitoes breed in stagnant water and also on damp ground near water sources. If you have puddles or containers of water in your yard, you're going to have more mosquitoes. A female can produce 100 offspring at a time after she mates, and she can lay eggs in a half a cup of water or a puddle an inch deep.
Here are several tips for reducing standing water from your property:
Search your yard for containers that can hold rainwater and remove them if possible.

If you have containers in your yard that you don't want to remove, but you're able to augment them so rainwater can leak through to the ground, we recommend this. An example is to poke a hole in the bottom of a tire swing.

If you have a container that you don't want to remove and one that can't be augmented, such as a bird bath, there are other options. In the case of a bird bath, circulation pumps can be added to prevent water from being stagnant or you could add goldfish to eat up developing mosquitoes.

If you have a clogged gutter, water that is trapped in your gutter can create a breeding site, and water that spills over can create puddles near your home that create breeding sites. Keep your gutters clear to prevent this.
Reduce Moisture
Mosquitoes require a lot of moisture to survive. For this reason, they will hide in moist landscaping during the day to protect themselves from the drying effects of the sun. If you can keep the vegetation in your landscaping dry, you can make it a little less ideal for mosquito habitation.
Here are some ways you can reduce moisture on your property:
Space the plants out in your landscaping to allow air to dry your topsoil after watering.

Trim tree branches to let the sun dry your landscaping after it rains.

Make sure you don't have any leaking spigots or hoses.
Learn The Connection Between Plants & Mosquitoes
Even if your landscaping is bone dry, it can still provide a place for mosquitoes to hide because mosquitoes feed on plant sap, honeydew, and the nectar from flowers. The more vegetation you have, the more interesting your landscaping will be.
Here are three important ways you can reduce this attraction:
Get rid of weeds and overgrowth. If you have vegetation that does not belong in your landscape, pluck them up. All of those weeds not only steal nutrients from the plants you want to keep but they also give mosquitoes a food source.

Trimming your grass can also cut down on mosquito populations because tall grass promotes moisture and mosquitoes can hide in tall grass during the day.

Add mosquito-resistant plants to your landscape. While these plants won't act as a barrier of repellent around your home, they can put off smells that will make your landscaping less attractive when they are planted strategically. Rubbing these plants and applying the oils to your skin will increase your ability to ward off bites.
Consider Professional Mosquito Control
The most effective way to reduce mosquitoes is with seasonal mosquito treatments. The product applied by professionals is designed to eliminate these simple organisms without harming you, your family, your pets, or any birds or furry animals that come into your yard. Most importantly, mosquito control products break the cycle of reproduction on your property and has an impact on neighboring properties.
If you'd like to learn more or establish mosquito service for your West Chester home, we can help. The team here at Moyer Pest Control has the experience to give you the best service possible. Reach out to us today to schedule mosquito control services for your home.