Termites: The Invisible Invaders
Termites are small insects that remain underground for most, if not all, of their lives. When they get into a home, they won't come out in the open and won't make any noise as they eat away at the wood within the walls. They can go completely undetected for months or even years. This makes them one of those pests that many people don't give a second thought to until it's too late. At that point, the damage they've caused can be extensive.
Although termites can be eliminated after they've infested a home, when it comes to termite protection, the preferable choice is prevention. Moyer Pest Control provides termite protection plans for homes and businesses whether you are in the prevention stage or have an active colony in or around your structure. Our knowledgeable, trained technicians will inspect your building, come up with a treatment plan to suit your situation, and execute that plan to ensure your home or business stays termite-free.
Termite Treatment Options
At Moyer Pest Control, we offer comprehensive termite control services in Pennsylvania for homes and businesses. We offer customized programs designed to rid your property of current termite activity and protect it from future infestations. Every Moyer termite control plan begins with a free termite inspection. This is vital to the process, as it allows us to determine the level of your infestation and the best treatment plan for your situation.
Liquid Termite Treatments
Termidor® is a liquid termiticide that is completely undetectable to termites. It is applied within the soil around the exterior perimeter of a home to form a continuous barrier of protection. Since termites can't sense it, they walk right through it, and since it works through both ingestion and contact, it is very effective at eliminating the termites in and around your home.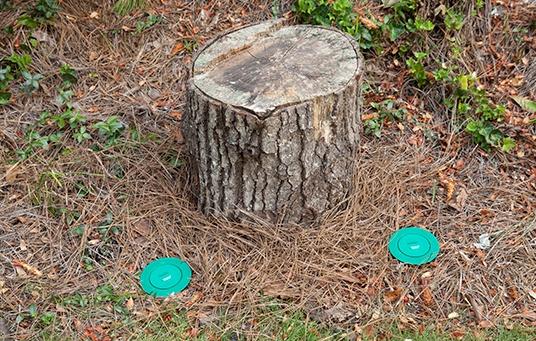 Termite Baiting Solutions
Sentricon® is a termite baiting system that is installed at regular intervals around the perimeter of a home. When termites discover the bait (which is more attractive to them than regular wood) they'll share it with other termites, spreading the active ingredients to the entire colony and eventually eliminating them all.
Moyer's Termite Re-Treatment Warranty
When you fight against termites with Moyer, you get the backing of our termite re-treatment warranty. If termites invade after our treatment, we will re-treat your home, at no additional charge. This warranty is renewable and transferable.
Termite Control FAQ
Am I seeing winged ants or flying termites?
Winged ants and flying termites look so similar that they can be difficult to distinguish. However, a closer look can help you identify which one you're looking at. The main differences between the two are:
Termites have straight antennae; ants have bent antennae.
Termites have straight waists; ants have pinched waists.
Termites have two sets of wings that are the same length; ants have two sets of wings that are different lengths.
I have termites in my home, now what?
Getting termites in your home is bad news, but the faster you respond to the situation, the better. Early intervention is the key to reducing the damage they cause. Moyer offers free termite inspections which will give you a better idea of the extent of the infestation and how to most effectively treat it.
What is Termidor and how does it eliminate termites?
Termidor is a termiticide. It is applied in a continuous barrier within the soil around the perimeter of a home or commercial building. Since it's completely invisible to termites, they continue their normal activity. When they pass over the barrier, they pick up the termiticide which they then spread to the rest of the colony. This eventually kills off the entire colony, including the queen.
Is termite baiting more effective than liquid termite treatments?
Both termite baiting and liquid termite treatments are effective at eliminating termite colonies. As is often the case, there are pros and cons to both systems and situations where one or the other is the preferred option.
The free termite inspection that Moyer offers allows our trained technicians to get an in-depth understanding of your particular situation. This helps us develop a plan that uses the best solution for your termite problem.