Stink Bugs: A Smelly Nuisance
Best known for the terrible smell they emit when threatened or squished, stink bugs (brown marmorated stink bugs) are becoming a major problem across Pennsylvania. Introduced to the United States from China and Japan via shipping crates, stink bugs have flourished in the eastern United States. The first known report of these fruit and vegetable plant-feeding pests was recorded in Allentown in 1998. By 2010, they had become season-long pests in orchards. Today, they are commonly found throughout our service area.
As nights become cooler in September and October, adult stink bugs, which can live up to a year, seek out warm shelter where they can spend the winter in a state of hibernation called overwintering. Unfortunately, their shelters sometimes end up being our homes. Stink bugs usually enter buildings through small openings around windows, doors, and air conditioning units. They can also gain entry under shingles and through openings in soffits. Inside, they can be seen on walls, around windows, and in the folds of curtains, laundry, and bedding.
The Moyer Solution For Stink Bugs
Stink bugs can be a major nuisance when they get into your house, which is why Moyer Pest Control has developed a solution to your stink bug problem. Our treatment plan is great because it not only protects your home against stink bugs, but it also protects against other occasional invaders such as box elder bugs and adult spotted lanternflies.
Our stink bug control plan consists of two treatments. The first is performed in late August or early September, depending on the weather. If it has been unseasonably hot, we'll wait a little later in the season to do the treatment. A trained technician will treat around the exterior of your home with micro-encapsulated materials. These materials are released over time, extending the effects for a longer period. Treatments are focused on the exterior structure of your home in order to keep stink bugs from getting inside and to eliminate any risk to your family. Please note, stink bug treatments are applied to the exterior of the home and do not include treating the lawn or treeline.
The second treatment consists of the same method as the first and is performed in late September or early October, depending on the weather.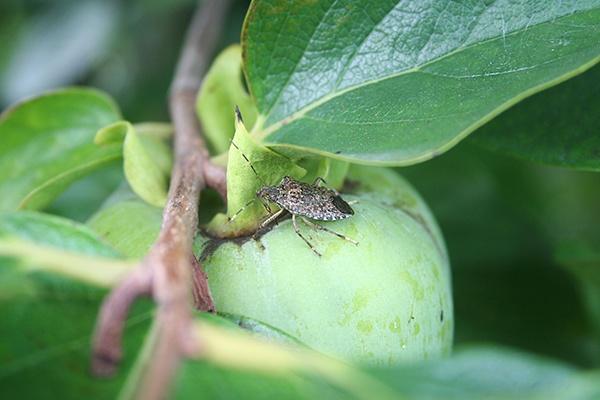 What You Can Do To Prevent Stink Bugs
Although our stink bug treatment is effective at keeping a variety of occasional invaders out of your home, it's still wise to take steps to prevent these bugs from getting inside. Many of these suggestions are also effective at keeping other pests out.
Keep doors and windows closed
Replace or repair torn screens
Seal and caulk small openings into your home, including gaps around windows and doors, holes in siding, and cracks in the foundation
Weatherstrip around windows and doors
Schedule Your First Stink Bug Treatment Today!
Moyer Pest Control provides stink bug services to Bucks, Chester, Delaware, Lehigh-Northampton, Montgomery and Philadelphia counties in Pennsylvania.
Stink Bugs FAQ
Do stink bugs really smell?
Yes. Stink bugs emit an odor as a defense mechanism and also when they're killed. People have differing opinions on what the odor smells like. The smell has been described as similar to a skunk, burning rubber, and even cilantro.
Why do I have stink bugs on the side of my house?
When the weather starts cooling down, many pests start looking for a warm place to stay. Bugs will often congregate on the southerly facing side of your house during the day because the sun heats it up. It's only a matter of time, once they start hanging out on the side of your house, that they'll find their way inside.