Silverdale, PA Pest Control Providers
With over 140 years of experience in the pest control industry, the professionals at Moyer Indoor | Outdoor know a thing or two about pests and how to eliminate them. Moyer Pest Control offers quality, effective, and environmentally friendly pest control services to businesses and homeowners in Silverdale. We utilize the Integrated Pest Management (IPM) approach, making sure we get rid of entire pest infestations with minimal use of chemicals. If you are in search of pest control in Silverdale you can trust, look no further than Moyer Indoor | Outdoor!
Bed Bug Treatments In Silverdale, PA
Bed bugs are one of the most frustrating pests you can find in your home or business, because once they enter your property they can be very difficult to get rid of. These insects are proficient travelers, attaching themselves to purses, used furniture, luggage, and even the clothes on your back. Bed bugs are able to adapt to new environments effortlessly, which means they may be thriving in places you may have never considered, like movie theaters, public transportation, and even department stores. Typical signs of a bed bug infestation include:
Itchy red welts on your skin

Shed bed bug skins or dead bed bugs

Dried blood spots on linens and mattresses

A sweet musty odor similar to over-ripened raspberries
At Moyer Pest Control, we understand the importance of eliminating bed bugs as soon as they are noticed. Once we are contacted we can send in our highly trained K9 Bed Bug Inspection team that will identify bed bugs in just minutes with a 98% level of accuracy. After we have made positive confirmation of bed bugs we will use our bed bug control services to eliminate bed bugs in all stages of development including: adult bed bugs, nymphs and bed bug eggs. If you believe you may be suffering from a bed bug infestation, now is the time to act and call on our Pennsylvania bed bug exterminators.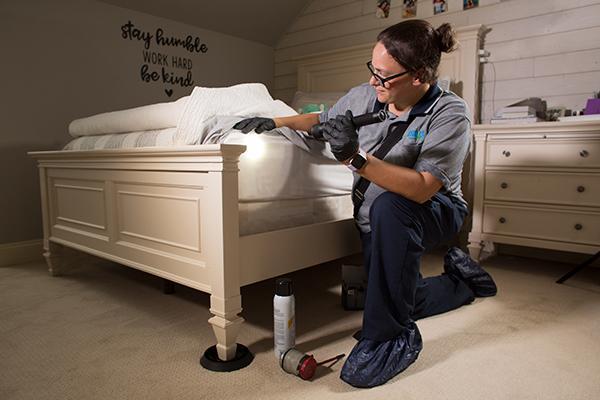 Silverdale, PA Home Pest Control Services
Your home is often your largest investment and our professional Silverdale exterminators are ready and waiting to help you protect it from troublesome pests. Once insects and rodents have made their way into your home, they can pose serious health risks to your family and pets by transmitting dangerous diseases and bacteria. Not only can they introduce harmful diseases, but pests like mice and carpenter ants are also known to cause extensive damage to your home's structure and belongings. With Moyer's home pest control services we can protect your home and family from these damaging pests with one of our levels of service:
Exterior Guard – Involves 4 exterior treatments from March through October

Complete Home Guard – Includes 3 exterior treatments and a 4th thorough inspection with protection from rodents, spiders, and other cold-weather pests

Complete Home Guard Plus – Includes everything that is with the Complete Home Guard Plan, plus the added benefit of termite coverage
Don't leave your home exposed to insects and rodents, let Moyer help protect your Silverdale home and keep you and your family safe.
We're Ready To Help
Get started today! Schedule now or call for more information.
How To Maintain A Pest-Free Silverdale, PA Business
Since 1869 Moyer Indoor | Outdoor has been assisting business owners and managers in achieving and maintaining a pest-free work environment. The experts at Moyer recognize how important it is to keep pests out and away from your business. We believe that a quality pest management program in the workplace is crucial in protecting your brand, image, and reputation, Plus a pest control program can also help protect your customers and employees.
Our commercial pest control services include coverage for:
Warehouses

Retail Stores

Restaurants and Bars

Healthcare Facilities

Lodging Facilities

Property Management

Food Processing
Insects and rodents may be lurking around your business, don't let them in. With Moyer's help you can breathe easy knowing our pest professionals have got it under control! To set up an appointment, contact our PA exterminators today!