What Are Ticks?
Ticks are a common pest in the United States. These pests are classified as parasitic arthropods and are most closely related to mites. While there are several species around the country, here in Pennsylvania there are a few species of ticks that are most common:
American dog tick

Lone star tick

Blacklegged tick

Groundhog tick
Ticks feed on warm-blooded mammals and that includes our pets and us! To identify a tick, you will see that it has eight legs, is round or flat in shape and is usually some shade of brown or black.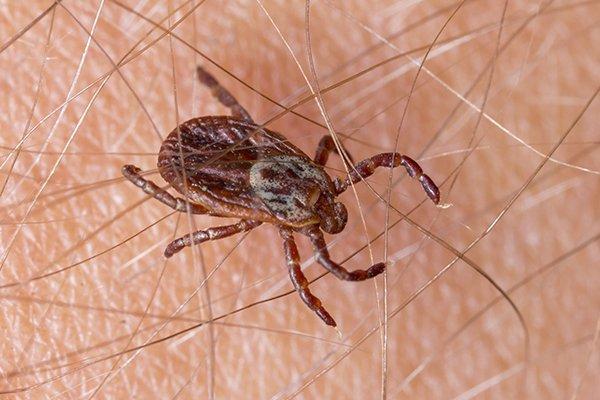 Why do I have them?
Ticks are commonly found in fields and tall grassy areas in Pennsylvania. They may also travel inside of homes if they have found a host to feed on, such as a human or dog. Once inside, they can go unnoticed for days and in some cases, ticks in the house can become a full on infestation. Ticks can go for days without food or water and are good at hiding out in your walls, attics or basements. Outside, ticks are known for hiding in tall grassy areas as well as the transitional areas where paths meet the woods. The best way to eliminate ticks on your property is to hire a professional pest exterminator.
Are they dangerous?
Ticks can be dangerous to you and your pets. Ticks are known to transmit diseases such as Lyme disease and Rocky Mountain fever. Blacklegged ticks (aka deer ticks) commonly transmit Lyme disease, while American dog ticks can transmit Rocky Mountain Fever. There are many other diseases also transmitted by these pests. This can pose serious health threats to you, your family and your pets. It is best to call a doctor if you believe you or someone you know has been bitten by a tick. The sooner you receive the proper treatment the better.
How do I get rid of ticks?
Ticks can be very difficult to notice at first, this makes them very hard to control on your own. Moyer's pest control professionals can help you control a tick infestation in Pennsylvania. Our trained exterminators will identify the type of ticks you are seeing and then help customize a plan to target these pests!
Can I do it myself?
DIY pest control solutions are not recommended when it comes to these pests. They can be costly, dangerous and leave you with a returning pest problem. Ticks are good at hiding and staying discrete. You may think that you have eliminated the problem with at home sprays or insecticide treatments, but the underlying tick problem can still be thriving in hiding.
Is the treatment safe?
The health and safety of our customers, families and employees is very important to us and that is why we use Integrated Pest Management (IPM) products and treatments that are EPA registered for pest control use. In addition, all of our Service Professionals™ are registered and licensed by the state or local jurisdictions where we provide service to ensure proper application.
How soon can you get here?
Moyer Service Professionals™ are committed to helping you as soon as possible. In most cases, we can respond the same or very next day.
How can I prevent ticks in the future?
Many pest problems can be difficult to prevent so many of our customers choose one of our 3 comprehensive, year round programs to ensure bed bugs stay out of their home or business. Contact us today for tick control.
Where does Moyer Pest Control service?
Moyer provides service in Souderton, Harleysville, King Of Prussia, and throughout Northampton, Lehigh, Bucks and Montgomery Counties as well as parts of Chester, Delaware and Philadelphia Counties.
Contact Moyer Pest Control
Our team is ready to solve your pest problem. Fill out the from below or call (215) 660-3642.


Latest Blogs
Stay informed about pests and pest related issues in your area!