What are termites?
Subterranean termites are the most common species of termite found in Pennsylvania. These termites are social insects that feed on cellulose from leaf litter, wood, soil, and even dung. They live in underground colonies that can be made up of as many as two million members and travel through small mud tubes to avoid exposure to open air and sunlight which can dry them out and leave them vulnerable to predators.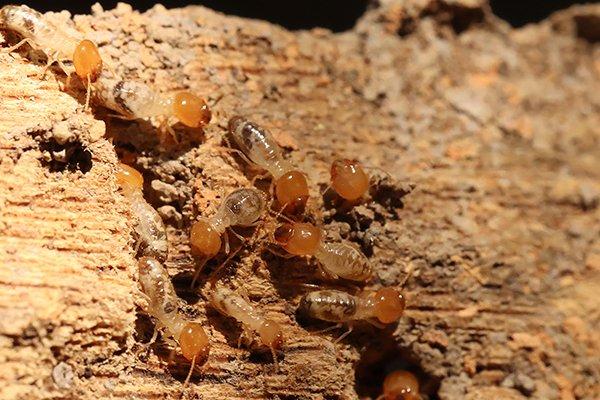 Why do I have them?
Termites are present in every U.S. state except Alaska, and if the conditions are right, termites can be present. Subterranean termites feed primarily on the cellulose from wood and other organic materials, so if those conditions exist on your property, it is possible for a termite colony to thrive.
Are termites dangerous?
Like many other pests, termites are not dangerous in the traditional sense, meaning they don't bite, sting, or spread disease. However, the real threat from termites is their ability to cause extensive and costly structural damage to homes, businesses, and other structures.
How do I get rid of termites?
While getting rid of any pest can be a challenge, getting rid of subterranean termites is an especially difficult task. First of all, the termite colony does not have to be located in the immediate vicinity of a structure to cause damage. Colonies can be as far as 300 feet away and still reach your home through a complicated network of mud tunnels leading from their nest, making it difficult to locate the source of your termite problem. Termites also enter our homes in hidden, out-of-the-way locations such as under porches or decks or along the foundation, and once inside, may remain undetected and continue causing damage for months or even years before you notice the signs of their presence.
Don't leave a termite infestation up to chance! A Moyer Service Professional™ can confirm the presence of termites on or near your property and implement our Complete Home Guard Plus program to help you get rid of termites.
Can I do it myself?
Termites are not a pest that many homeowners have success in eliminating on their own. Locating the nest, which must be entirely eradicated to get rid of the infestation, can be a very difficult task. Many do-it-yourself termite treatments advertised to rid your property of termites simply do not work as the chemicals they use are not effective and they don't get to the root of the problem. Also, if misused or mixed improperly, pesticides can be very dangerous to people, pets, and plants.
Is the treatment safe?
The health and safety of our customers, their families, or their employees is very important to us which is why we use Integrated Pest Management products and treatments that are EPA registered for pest control use. In addition, all of our Service Professionals™ are registered and licensed by the state or local jurisdictions where we provide service to ensure proper application.
How soon can you get here?
Moyer's Service Professionals™ are committed to helping you as soon as possible. In most cases, we can respond the same or very next day.
How can I prevent this in the future?
Many pest problems can be difficult to prevent, especially termites, so most of our customers choose our Complete Home Guard Plus program which includes comprehensive termite control treatments to ensure termites stay out of their home or business.
Where does Moyer Pest Control service?
Moyer provides pest control services in West Chester, Harleysville, King Of Prussia, and throughout the Northampton, Lehigh, Bucks, and Montgomery counties as well as parts of the Chester, Delaware, and Philadelphia counties.
Latest Blogs
Stay informed about pests and pest related issues in your area!