What Are Spiders?
There are around 3000 species of spiders that reside in the United States. Spiders are often considered insects but are really arachnids that are characterized by having 8 legs, no wings or antennae and feed on insects. In nature, they are beneficial because they keep the numbers of many other insects down, but in our homes or offices, they can cause a great deal of stress. The wolf spider is actually the most common spider in our area. These spiders carry the distinction of tracking and attacking its prey rather than capturing prey in webs.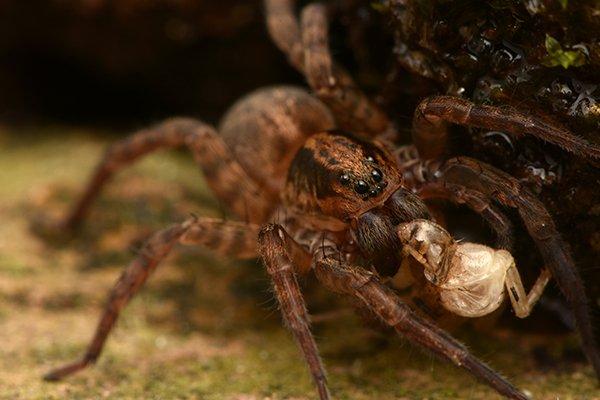 Why do I have them?
Spiders will move indoors when the conditions outside become too harsh, such as when the temperatures start to drop. By nature, spiders like dark and secluded areas such as basements, garages and crawl spaces where they maybe an ample supply of food.
Are they dangerous?
Spiders are known to bite humans if threatened; fortunately, there are no indigenous venomous spiders in our area, so if bitten by a spider a trip to the emergency room may not be required.
How can I get rid of spiders?
Spiders are very resourceful and usually will only enter your property if there is an easy means of doing so. It may be difficult to control spider populations inside your home because of their shy nature, but you can keep shrubs and bushes trimmed away from the siding or exterior of the property as well as seal any holes or cracks around doors, windows and basements to reduce points of entry. If those attempts fail, contact Moyer Indoor/Outdoor®. A Moyer Service Professional™ can confirm the presence of spiders and recommend one of our 3 levels of service to help you get rid of spiders.
Can I do it myself?
Spiders can be very difficult to eliminate from your home or office due to the overabundance of hiding places. Many do-it-yourself repellents and sprays to rid your property of spiders simply do not work as the chemicals they use are not effective. Also, if misused or mixed improperly, pesticides can be very dangerous to people, pets or plants.
Is the treatment safe?
The health and safety of our customers, their families or employees is very important to us and that is why we use Integrated Pest Management products and treatments that are EPA registered for pest control use. In addition, all of our Service Professionals™ are registered and licensed by the state or local jurisdictions where we provide service to ensure proper application.
How soon can you get here?
Moyer Service Professionals™ are committed to helping you as soon as possible. In most cases, we can respond the same or very next day.
How can I prevent this in the future?
Many pest problems can be difficult to prevent so most of our customers choose one of our 3 comprehensive, year round programs to ensure spiders stay out of their home or business.
Where does Moyer Pest Control service?
Moyer provides pest control services in Souderton, Collegeville, and West Chester, as well as throughout Northampton, Lehigh, Bucks and Montgomery Counties and parts of Chester, Delaware and Philadelphia Counties. We also service parts of Delaware and Lumberton, New Jersey.
Articles related to spiders
Contact Moyer Pest Control
Our team is ready to solve your pest problem. Fill out the from below or call (215) 660-3642.


Latest Blogs
Stay informed about pests and pest related issues in your area!