What Are Millipedes?
Millipedes are not actually an insect, but an arthropod. They do not have a thousand legs like their name implies. Millipedes actually have somewhere between 80 and 400 legs and unlike centipedes, which they are often mistaken for, millipedes have two sets of legs for every segment of their body and when they move, their legs appear to be moving in a wave-like motion. A millipede's legs are shorter than a centipede's and in general, millipedes move very slowly.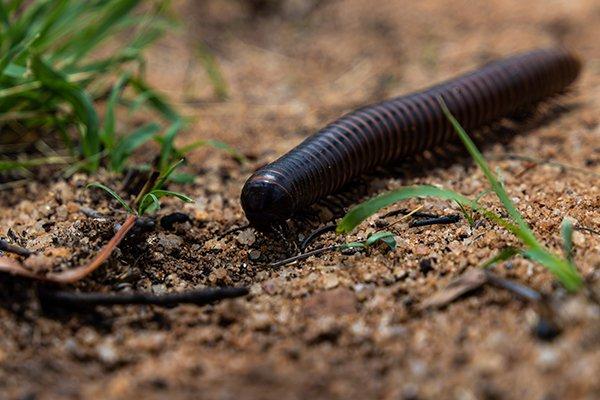 Why do I have them?
Millipedes typically feed on damp and decaying vegetation and spend most of their lives outdoors in the soil. Occasionally, millipedes will make their way from their moist living places and venture into homes, but often die because of the lack of moisture and food sources indoors.
Are they dangerous?
Millipedes are not poisonous and do not bite or sting; they can however release a horrible fluid to defend themselves. Some species may be able to spray this fluid several inches. The fluid may cause irritation to the skin in some people and should be removed right away. This fluid may also be difficult to remove and may take some scrubbing to get rid of the odor.
How do I get rid of millipedes?
Millipedes can be a difficult pest to control. A Moyer Service Professional™ can confirm the presence of millipedes and recommend one of our 3 levels of service to help you get rid of millipedes.
Can I do it myself?
Millipedes are not pests many homeowners have much success eliminating on their own. Many do-it-yourself repellents and sprays to rid your property of millipedes simply do not work as the chemicals they use are not effective. Also, if misused or mixed improperly, pesticides can be very dangerous to people, pets or plants.
Is the treatment safe?
The health and safety of our customers, their families or employees is very important to us and that is why we use Integrated Pest Management products and treatments that are EPA registered for pest control use. In addition, all of our Service Professionals™ are registered and licensed by the state or local jurisdictions where we provide service to ensure proper application.
How soon can you get here?
Moyer Service Professionals™ are committed to helping you as soon as possible. In most cases, we can respond the same or very next day.
How can I prevent this in the future?
Many pest problems can be difficult to prevent so many of our customers choose one of our 3 comprehensive, year round programs to ensure millipedes stay out of their home or business.
Where does Moyer Pest Control service?
Moyer provides service in Souderton, Harleysville, Collegeville, and throughout Northampton, Lehigh, Bucks and Montgomery Counties as well as parts of Chester, Delaware and Philadelphia Counties. Contact us today to learn more about the services available in your area.
Contact Moyer Pest Control
Our team is ready to solve your pest problem. Fill out the from below or call (215) 660-3642.


Latest Blogs
Stay informed about pests and pest related issues in your area!