What are fleas?
Fleas are insects that feed on the blood of humans and animals. The most common flea found in Pennsylvania is the cat flea, which is primarily found on cats and dogs but will also feed on humans and the blood of other animals. Fleas are small insects, under 1/4 of an inch in length, and are dark brown or reddish black when filled with blood. Female fleas can lay 4 to 8 eggs after each blood meal and may lay up to 500 eggs during her lifetime. Eggs are laid and deposited on or in between pet hairs and are consequently easily shaken off onto bedding or other areas. Adult fleas may survive for months without a blood meal.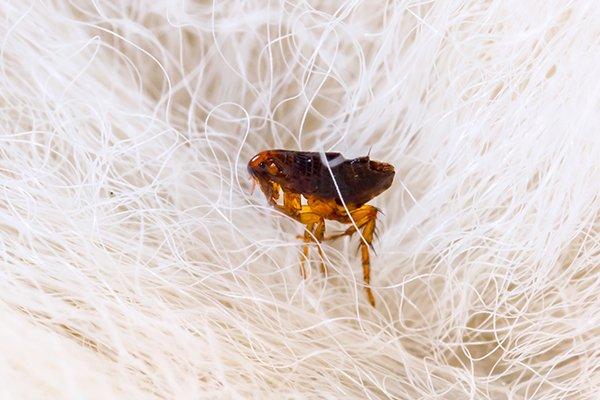 Why do I have them?
Typically fleas are brought into your home on your pets, but even if you don't have pets, fleas are able to jump up to 6 inches in the air. making it easy for them to hop onto your shoes or clothing and catch a ride inside. If they do enter your home, they can survive up to 6 months without eating.
Are fleas dangerous?
Fleas can cause uncomfortable, itchy bites and are known to transmit diseases such as plague and murine typhus. They can also infect your pets with tapeworms and occasionally infect humans with rodent tapeworm.
How do I get rid of fleas?
Fleas can be a difficult pest to control because they are brought indoors from an outside source. A Moyer Service Professional™ can confirm the presence of fleas and recommend one of our 3 levels of pest control treatment to help you get rid of fleas.
Can I do it myself?
There are products available from your veterinarian that can effectively control fleas from getting on your pets. However, if you already have a flea problem, these products won't effectively resolve your flea problem or prevent new ones. Getting rid of fleas is not something that many homeowners have success in doing on their own. Many do-it-yourself repellents, sprays, and bombs to rid your property of fleas simply do not work as the chemicals they use are not effective. Also, if misused or mixed improperly, pesticides can be very dangerous to people, pets, or plants.
Is the treatment safe?
The health and safety of our customers, their families or employees is very important to us and that is why we use Integrated Pest Management products and treatments that are EPA registered for pest control use. In addition, all of our Service Professionals™ are registered and licensed by the state or local jurisdictions where we provide service to ensure proper application.
How soon can you get here?
Moyer Service Professionals™ are committed to helping you as soon as possible. In most cases, we can respond the same or very next day.
How can I prevent this in the future?
Many pest problems can be difficult to prevent. Fleas are one such problem. That's why many of our customers choose one of our 3 comprehensive, year-round pest control programs to ensure fleas stay out of their home or business.
Where does Moyer Pest Control service?
Moyer provides pest control services in Souderton, Telford, and West Chester as well as communities throughout the Northampton, Lehigh, Bucks, Montgomery, Chester, Delaware, and Philadelphia counties. Contact us to learn more about our pest control service area.
Latest Blogs
Stay informed about pests and pest related issues in your area!