What are cockroaches?
These pests date back to prehistoric times, so you can bet they will be around a lot longer. There are thousands of species of cockroaches throughout the world, but in our region, the 3 most common are the German cockroach, the Oriental cockroach, and the American cockroach.
The German Cockroach: This is the most common cockroach species found in homes and commercial kitchens. Adults measure 1/2 to 5/8 inches long and are light brown to tan in color. German roaches are most commonly brought into homes and businesses through the introduction of boxes, new appliances, or furniture.
The Oriental Cockroach: Sometimes referred to as a "water bug", this species can grow to about one inch long and is shiny black to reddish in color. They love hiding in basements and crawlspaces and early spring is the most common time for sightings.g Oriental roaches enter from outside your home or even through public sewer systems.
The American Cockroach: With reddish-brown coloring, this roach is the biggest, measuring between 1-3/8 to 2-1/8 inches long. Fortunately, this species is not commonly found in homes or commercial areas and tends to live close to hot pipes or other areas with high temperatures.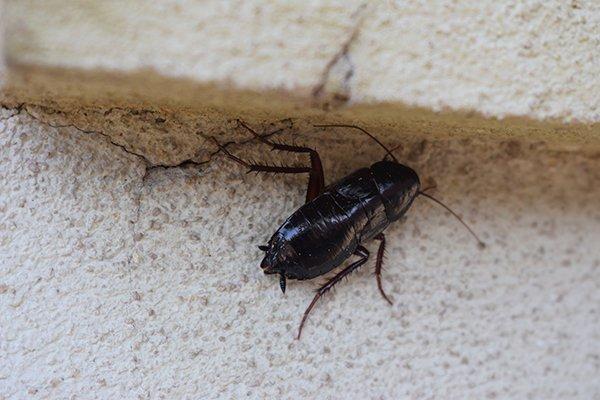 Why do I have them?
All cockroaches are scavengers that are in search of an environment that is appropriate for breeding. Wet or moist basements, kitchens, and bathrooms are the preferred areas as they provide the essential elements: food, water, humidity, warmth, and shelter.
Are cockroaches dangerous?
Yes, cockroaches can be dangerous. They can pick up germs and bacteria on the spines of their legs and bodies as they crawl through decaying matter or sewage and then carry these germs into our food or onto food preparation surfaces. They were shown to cause asthma in children through the build-up of asthma allergens in deposits of droppings, secretions, shed skins and the dead bodies of roaches.
How do I get rid of cockroaches?
Cockroaches can be very difficult to get rid of due to their ability to adapt to many different environments and multiply rapidly. A Moyer Service Professional™ can confirm the presence of cockroaches and recommend one of our two levels of cockroach control coverage to help you get rid of cockroaches.
Can I do it myself?
Proper sanitation is an important first step to eliminating cockroaches; however, roaches are a pest that many people do not have success in eliminating on their own. Many do-it-yourself repellents and sprays to rid your property of cockroaches simply do not work as the chemicals are not effective. Also, if misused or mixed improperly, pesticides can be very dangerous to people, pets or plants.
Is the treatment safe?
The health and safety of our customers, their families or employees is very important to us and that is why we use Integrated Pest Management products and treatments that are EPA registered for pest control use. In addition, all of our Service Professionals™ are registered and licensed by the state or local jurisdictions where we provide service to ensure proper application.
How soon can you get here?
Moyer's Service Professionals™ are committed to helping you as soon as possible. In most cases, we can respond the same or very next day.
How can I prevent this in the future?
Many pest problems can be difficult to prevent so many of our customers choose one of our three comprehensive, year-round pest management programs to ensure cockroaches stay out of their home or business.
Where does Moyer Pest Control service?
Moyer provides effective pest management in Souderton, Kulpsville, Levittown, and throughout the Northampton, Lehigh, Bucks and Montgomery counties as well as parts of the Chester, Delaware and Philadelphia counties.
Articles Related To Cockroaches
Latest Blogs
Stay informed about pests and pest related issues in your area!