What are clover mites?
Clover mites are actually true mites, not insects. They are a close relative of ticks and spiders. Clover mites are tiny, home-invading mites that are red in color with long front legs. To the naked eye, they are no more than tiny red bugs and appear no larger than a pinhead. They feed primarily on clover, grassy lawns, plants, and weeds and tend to appear by the thousands during the spring and fall months.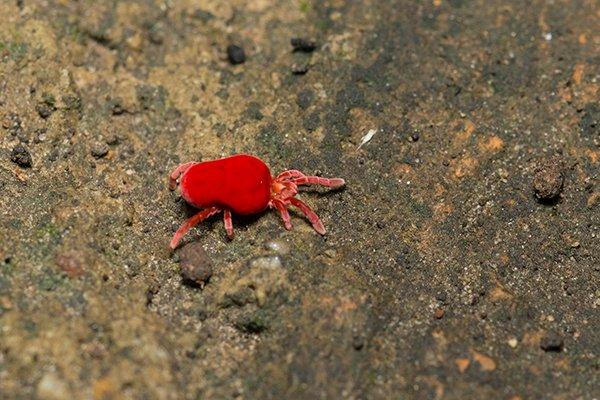 Why do I have them?
Clover mites crawl from the ground to invade your home through small cracks and tiny openings around windows and doors. Inside, you may find them crawling around window sills, on walls, or directly on windows. These bugs will leave behind a telling red stain when crushed. On the exterior, you may find thousands of these tiny red bugs gathering on siding, brick walls, and other outdoor surfaces and are often attracted to the sunniest side of the house or foundation.
Are clover mites dangerous?
Clover mites are nuisance pests due to their ability to invade homes and businesses in large numbers through cracks and crevices. They cannot bite, are not harmful to humans or pets, and will not cause structural damage, but clover mites may leave red stains on walls, carpets, and furniture if they are crushed.
Can I do it myself?
Clover mites are not a pest that most homeowners have success eliminating on their own. Many do-it-yourself repellents and sprays to rid your property of clover mites simply do not work as the chemicals they use are not effective. Also, if misused or mixed improperly, pesticides can be very dangerous to people, pets, or plants.
Is the treatment safe?
The health and safety of our customers, their families, or employees is very important to us and that is why we use Integrated Pest Management products and treatments that are EPA registered for pest control use. In addition, all of our Service Professionals™ are registered and licensed by the state or local jurisdictions where we provide service to ensure proper application.
How soon can you get here?
Moyer Service Professionals™ are committed to helping you as soon as possible. In most cases, we can respond the same or very next day.
How can I prevent this in the future?
Many pest problems can be difficult to prevent so many of our customefcrs choose one of our three comprehensive, year-round pest control plans to ensure clover mites stay out of their home or business.
Where does Moyer Pest Control service?
Moyer provides pest control service in Souderton, Telford, and West Chester as well as communities throughout the Northampton, Lehigh, Bucks, Montgomery, Chester, Delaware, and Philadelphia counties. Visit our Service Area page or reach out to us for more information about our pest control service area.
Latest Blogs
Stay informed about pests and pest related issues in your area!