Pest Control For Paoli, PA
The rich history and close proximity to Philadelphia make Paoli a desired location to settle down and raise a family. This small community still holds to the valued traditions of long ago, while it also encourages the development of its business sector. Paoli offers that 'small-town feel', but is minutes away from Philadelphia and all the big city thrill and amenities it has to offer – but people are not alone in their desire to call Paoli home. Insects, rodents, and woodland creatures also love the small-town atmosphere here. Pests like bed bugs, mosquitoes, termites, cockroaches, and many more thrive here in Paoli. This is perfectly fine as long as they thrive away from homes and businesses and never encroach upon our residents, but this is often not the case.
These pests are searching for food, water, and shelter, especially when winter is near, and will take every opportunity to invade your home or business. When this happens, many of your friends and neighbors have turned to the trusted name of Moyer Pest Control for effective solutions to their pest problems. They have found that Moyer holds to those valued traditions of long ago too. Things like integrity, honesty, hard work, fair pricing, and attention to detail are practiced each and every day by our professionals. With over 147 years of experience in local pest pressures, we have the products, technology, training, and expertise to treat any pest issues that may arise in your Paoli home or business. When pests come knocking at your Paoli home or business, turn to the experts that so many of your friends and neighbors have trusted, Moyer Pest Control.
Residential Pest Control In Paoli, PA
One thing that all residents of Paoli have in common is the need to protect their homes and their families from the effects of damaging and dangerous insects, rodents, and wildlife; and we understand that each home and family is unique in the pest pressures they experience and in their view of acceptable treatment options. With this in mind, our pest control specialists have designed three levels of residential pest control for Paoli homeowners to choose from in order to meet the specific demands and pressures in your particular home. Although each plan is just a little bit different, they all utilize the latest procedures, products, and protocols that are proven effective against the pests that are common in Paoli, and they are all backed by the trusted name of Moyer Pest Control.
The Exterior Home Guard, Platinum Home Guard, and Complete Home Guard programs are some of the most comprehensive and complete programs in the industry and come with the added protection of free services between scheduled visits if covered pests happen to return. When pests threaten the integrity of your Paoli home and the health of your family, turn to the local pest control company with over 147 years of experience; Moyer Pest Control.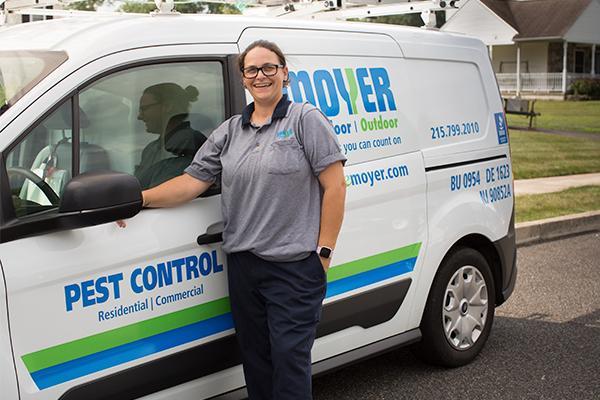 Termite Control Services In Paoli, PA
Termites are destructive. Extremely destructive! They will slip into a home undetected from beneath the ground and work 24/7/365. The trouble is that their 'work' involves eating the structural wood of your home. Since termite colonies range in size from hundreds of thousands to a million hungry residents, damage can become quite severe. In fact, termites cost American home and business owners over $5 billion annually. Why share in the high cost of termite damage, when the termite control experts at Moyer Pest Control can help you prevent it? Not only can our termite specialists eliminate an existing infestation, but they can also put measures in place to protect your home and prevent an infestation in the future. We also offer very successful commercial termite services as well. If you have an existing infestation in your Paoli home or business or if you just want to avoid it altogether, give Moyer Pest Control a call today. Our experts are standing by to discuss the process with you.
We're Ready To Help
Get started today! Schedule now or call for more information.
Bed Bug Control Treatments In Paoli, PA
Bed bugs are a big problem across the country and even here in Paoli. These little creatures are elusive hitchhikers that will secretly sneak into your purse or luggage, or even onto your shoe or pant leg, and catch a free ride to their new home. YOUR home! Their favorite meal is human blood, so they can be found anywhere that people congregate such as hotels, motels, libraries, schools, hospitals, stores, malls, planes, trains, taxi cabs, buses, and more. It only takes a few bugs or a few eggs to start a very frustrating infestation in your home, and the fact that they are so small, especially the opaque eggs, makes it very easy for them to hitch a ride undetected. If you are unfortunate enough to find bed bugs in your Paoli home or business, Moyer Pest Control can help get rid of them. We offer several effective bed bug control options to rid your home of bed bugs including K-9 inspections and heat treatments. Don't spend another sleepless night in Paoli; contact Moyer Pest to see how we can help you keep those bed bugs from biting.
Why Choose Moyer For Insect & Rodent Control In Paoli, PA
Why should you choose Moyer Pest Control for your insect and rodent control in Paoli? That's easy. We have been tirelessly serving the families and businesses of Pennsylvania for over 147 years which means that we have invaluable hands-on experience with local pest pressures and understand exactly what it takes to eradicate pests.
For almost a century and a half, Moyer Pest has built a reputation for integrity, honesty, and fairness; a reputation that we are very proud of. We are also considered a leader in the pest control industry, as witnessed by our QualityPro certification. Our innovative techniques; effective protocols, products, and procedures; and our focus on satisfying our customers have made us who we are today – and it's that tradition of excellence that will continue long into the future. Trust the name that thousands of your friends and neighbors in Paoli and all of Pennsylvania have trusted for quality pest control service since 1869 – Moyer Pest Control.