Pest Control For Newtown Square, PA
Newtown Square, PA is the perfect mix of "Five Star" suburban community, main street ambiance of "Mom and Pop" stores, and cutting edge international corporations... If there was ever a recipe or formula to make the perfect town, this would be it! Originally planned in England by William Penn, this historical town has been evolving for a long time. From its original roots in 1863 when Mr. Penn planned the 'first inland town west of Philadelphia" to today's modern comforts this is home to 13,000 residents and lots of pests. That's right, insects and rodents are taking advantage of the homes and businesses in this community. The good news is that Moyer is here to help. With an office located right in Newtown Square, we have the ability to respond to pest problems quickly!
Moyer Indoor | Outdoor
5123 West Chester Pike
Newtown Square, PA 19073
(610) 692-9360
Home Pest Control In Newtown Square, PA
Newtown Square, PA started as a planned community and is still a very precise and inviting place today. Planning and preparation make all the difference in town and community planning. The same can be said for pest control! Planning for pest infestations and taking proper prevention methods is a crucial part of pest-free homes.
At Moyer, we provide ongoing pest control for Newtown Square homes that targets ants, spiders, millipedes, and other common household insects and rodents. Planning, preventing, and controlling are the three major areas of pest management, and we have them down to a science!
To learn more about the home pest control services we offer and how they can protect your home from ants, spiders, and other common household pests, give us a call at Moyer Pest Control today.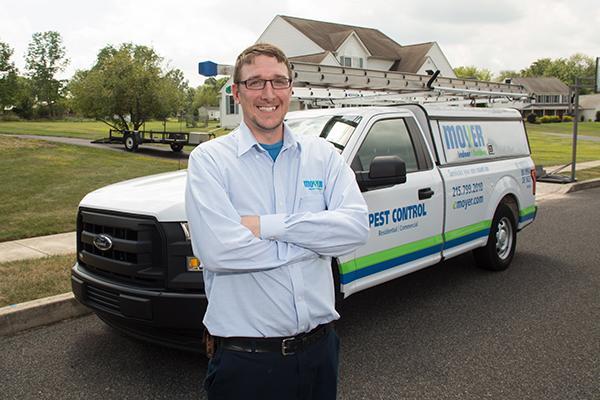 Termite Extermination In Newtown Square, PA
Termites are a fact of life in too many places and unfortunately, Newtown Square is one of these places. There are many beautiful homes and businesses for termites to infest and damage in our area, and they take full advantage of this opportunity.
Termites feed on the cellulose fiber in wood products. They are silent destroyers that can infest the wood in any building, fence, or wooden structure. These destructive insects cause millions of dollars in damages throughout the United States each year. How can you protect your property and avoid being part of that statistic? With the help of the termite control professionals here at Moyer Indoor | Outdoor! We have been protecting the people of Pennsylvania for almost 150 years and can defend your home or business from wood-destroying termites as well.
Contact us to learn more about our termite treatment plans in Newtown Square or to get started today!
We're Ready To Help
Get started today! Schedule now or call for more information.
Bed Bugs Are Not Taking A Rest In Pennsylvania
Bed bugs are traveling, biting nuisance pests. While they have not been shown to transmit diseases to humans, bed bug bites may leave swollen, red welts on the people who are unlucky enough to be bitten. These teeny nocturnal pests are difficult to find using just the naked eye, and are even harder to get rid of! Bed bugs have the ability to hide in the smallest of cracks and crevices during the day, and only come out at night when it's time to find a blood meal.
At Moyer, we took the guessing game out of bed bug detection and control. We have the most efficient means of detection with our K9 bed bug detection dog. Scout is able to smell bed bugs in any commercial and residential setting with minimal disruption. Our professional technicians work with you to provide you with a comprehensive, safe, and customized bed bug control plan to irradiate these pests from your property.
Commercial Pest Control In Newtown Square, PA
If you do something and do it right, your customers will let you know. They will return for your product and service over and over again; giving you many years of happy service and enjoyment in your field. We know this because we have been serving the people of Pennsylvania for over a decade! We know that the only way that your customers will allow you to serve them is by providing them with the best service possible. A pest-free facility is part of offering your clients a successful experience. It is crucial to the success of your business.
At Moyer Indoor | Outdoor, our approach to treating businesses for pests is threefold. We have a specific Integrated Pest Management System that includes the elimination of existing pest problems, the application of appropriate chemicals in appropriate amounts, and finally, the implementation of measures to prevent future pest activity. This is our recipe for success with successful businesses. Let our business partner up with yours for success.
To learn more about our commercial pest control services in Newtown Square, PA, reach out to Moyer today!
Choose The Best In Pest Control With Moyer!
If pests are harmful to the health of your family, your loved ones, or your patrons, then wouldn't it seem like the best option is to have experienced exterminators controlling them? Of course it does! Also, the chemicals in do-it-yourself products can be harmful, especially if handled incorrectly or used improperly. There are some things in life that are just better handled by the professionals, and pest control is one of them. Contact the experts are Moyer Indoor | Outdoor today and let us help keep your home or business pest-free!