Pest Control For Nazareth, PA
Nazareth, PA is ideally located in the center of Northampton County in the Lehigh Valley. This largely residential borough offers its residents an easy commute to the three larger area cities of Easton, Bethlehem, and Allentown. Nazareth was founded in the 1700s by Moravian immigrants. This quaint borough is full of historic buildings in addition to more modern buildings and neighborhoods. Whether your Nazareth home is 10 years old or 200 years old, both need to be protected from being invaded and damaged by local area pests. Trust the pest control company which, for over 140 years, has been protecting Pennsylvania homes and businesses from insects, rodents, and other pests - Moyer Pest Control. To learn more about any of our effective pest control services and how we can work together to protect your Nazareth commercial or residential property from pests, get in touch with us today and speak with one of our highly trained experts!
Home Pest Control In Nazareth, PA
Protect your family and Nazareth home from invading, damaging, and dangerous insects and rodents by implementing a residential pest control program from Moyer Pest Control. Each of our guaranteed residential pest control programs are tailored to meet the exact needs of your home, family, and budget and each offer year-round protection against pests.
Our Exterior Home Guard program includes four exterior service visits scheduled every other month in season.

Our Complete Home Guard program includes four quarterly services per year—three exterior and one interior.

Our most comprehensive program is the Platinum Home Guard program and includes six scheduled services every other month, along with targeted services needed to protect your home from termites, mosquitoes, and stink bugs.
With the help of the professionals at Moyer Pest Control, you can eliminate Pennsylvania pests from your home, and keep future pests from being able to breach its barrier!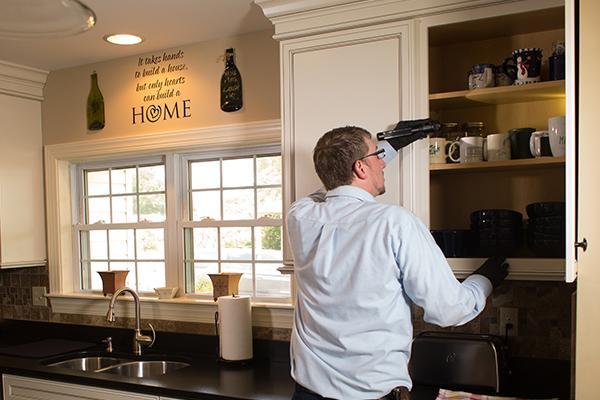 How To Kill Fruit Flies In Nazareth, PA
Fruit flies are a small species of fly that can become a huge nuisance inside your home. To eliminate fruit flies, you need to do more than just squish the ones you see flying around, their breeding and feeding sites need to be found and eliminated. To completely get rid of fruit flies and prevent them from coming back put into place our Complete Home Guard program. It can provide you with the services needed to rid your home of invading fruit flies and keep them and other species of flies and household pests from returning. In addition to implementing year-round pest control services into your Nazareth home, the following tips can help to prevent fruit flies from becoming a problem for you and your family.
Don't leave dirty dishes in your kitchen sink for long periods of time; if dirty dishes need to be left for a period of time, soak them in soapy water

Place fruits, vegetables and other food inside of containers with airtight lids or in the refrigerator

Quickly clean up spills and crumbs, regularly wipe down counters and mop and vacuum floors

Remove trash from your home on a daily basis

Routinely clean out sinks and drains
Contact us today for information about our Complete Home Guard program.
We're Ready To Help
Get started today! Schedule now or call for more information.
Commercial Pest Control Solutions In Nazareth, PA
Protect your business, its reputation, and its bottom line from pests by hiring the professionals at Moyer Pest Control. Our professionals have the knowledge, experience, and dedication needed to eliminate current pest problems and prevent future ones from occurring. Whether you own a restaurant, hotel, retail store, or a large industrial facility we have the commercial pest control services needed to keep pests out. Using Integrated Pest Management (IPM) we offer the complete elimination of current pest problems, the safe application of chemicals in and around your facility on an as-needed basis, and the implementation of prevention measures. Get in touch with us today to have your Nazareth business protected from pests by the Pennsylvania commercial pest control experts at Moyer Pest Control.
Learn How To Spot A Termite Infestation In Nazareth, PA
If you spot signs of termites in or around your Nazareth home, you need to contact Moyer Pest Control immediately so that our professionals can perform a detailed termite inspection and put into place prevention/treatment services. Knowing some of the common signs of a termite infestation will allow you to get help for the infestation sooner rather than later, helping to limit the damages.
Finding mud tubes on your property is a very common and fairly easy way to spot termites; termites use mud tubes to travel through and protect themselves from the elements. Mud tubes are about the width of a pencil and can be found running toward your home on the ground or running up foundation or basement walls.

Another sign of termites is to discover discarded termite wings; finding piles of their wings on windowsills, underneath windows, in doorways, or on walkways is a good indication that there is a mature termite nest on your property or in your home.

Noticing termite frass (excrement) accumulating on window sills, behind baseboards, and on floors is another sign that termites are probably in your home and feeding on its structural wood.
If you ever discover signs of termites don't become distressed, Moyer Pest Control can help to prevent/eliminate problems with termites through our highly effective termite services which include:
Pest Termite Renewal Program (PTR). Using the Green Eyes monitoring stations, our technicians establish a ring of detection around the foundation of your home or facility. Feeding termites set off a quick and reliable visual signal.

Pest Termite Preventative Program (PTP). This program uses Termidor® termiticide on the exterior of your home or commercial structure to proactively protect your property from termites.

Complete Home Guard Plus (PQP). Termite treatment is provided for your home as part of a larger, routine home pest control program.
Contact us today to learn more about our termite prevention and control services in Nazareth!