Stink Bug Control In Pennsylvania
In our Pennsylvania service area, we treat for a lot of bugs but, apparently, there was room in Pennsylvania for a couple more. Over the last two decades, we've been seen more and more of the brown marmorated stink bug and the kudzu bug, both of which are making trouble for the agricultural industry in the state; however, you don't have to grow soybeans, corn, tomatoes, lima beans, peppers, or fruit to have troubles with stink bugs. When the cold weather comes, those stinky insects go from being a commercial pest control problem to a residential pest control problem.
If you're thinking, "That stinks," we couldn't agree more! That's why we've taken the time to put together some helpful information for how to control stink bugs in and around your Pennsylvania home. We've broken it down into two parts. The first is what you can do to keep these bugs out, and the second focuses on what only a pest control company can do for you.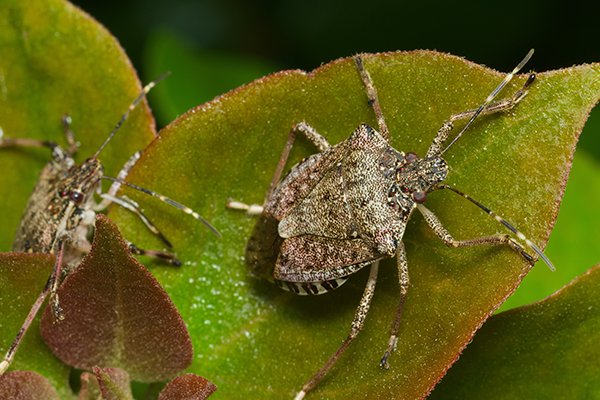 Stink Bug Prevention Tips
There are some things you can do to keep stink bugs out of your home. While these tips won't keep them from crawling all over your screens or congregating on your exterior walls, they can make a big impact in how many of these bugs will be crawling around in your curtains and walking across your flatscreen television.
In fall, stink bugs start to hide under the bark of trees to escape cold temperatures. They will also hide under the bark of your house (your siding). It is important to do a detailed inspection of your walls and see if there are any pieces of siding that need to be fixed.

Stink bugs congregate on screens, so it is important to make sure all of your screens are in good working condition. It doesn't take much of a hole to allow a stink bug to get inside. This is particularly troublesome for sliding door screens. When stink bugs get past the screens, they can slip inside when you go outside.

Stink bugs cling to walls. This gives them easy access to the weather stripping on sliding doors. Make sure all of your weather stripping is making good contact from top to bottom. Check your door sweeps as well. Stink bugs will exploit any opening they find, especially if there is warm air coming out of it.

Every home can develop holes and gaps over time. It is important to do a detailed inspection and seal any entry point you find. Look closely around pipes and electrical conduit.

Apply screens over any vents that could allow stink bugs access.
Professional Stink Bug Control
If stink bugs are allowed to crawl on your home, it is inevitable that some of them are going to find their way in. They may even come in through the front door as you walk in or come out, or find their way into your garage and get in when you go from the garage to the house. That is why it is important to partner with a professional pest control company for effective home pest control services.
Professionals apply EPA approved pesticides to exterior walls and vulnerable locations to deter stink bugs from congregating, and to create a barrier that stops these stinky bugs from getting inside. More than one application is necessary – especially in fall, when stink bugs are most likely to congregate on your home.
Interior pesticide applications are not generally used. If there are any stink bugs in your home currently, they can be taken care of with a vacuum. When the exterior is treated, this becomes a much less frustrating task. It is never fun to have dozens of stink bugs be replaced by a dozen more after you vacuum them up.
If you have questions about stink bug reduction service, or you would like assistance with general fall pest exclusion, find out if you're in our Pennsylvania service area. Moyer Pest Control is an industry-leading pest controller with over 140 years of pest control experience, and if that is not enough, you'll also get our 100% satisfaction guarantee. Schedule pest control services for your home and keep those stink bugs out of your place.