Pest Control For Eaxton, PA
Moyer Pest Control is a local pest control company that has been helping the residents living in and around Philadelphia, including those living in Exton, to keep their homes free of pests that can cause damages, introduce diseases, or just plain annoy us. Residents of Exton enjoy its close proximity to Philadelphia, its great neighborhoods, and the fact that we are known for being home to the largest shopping district in Chester County! Let us help keep your family and your Exton home safe from pests through our vast knowledge that has been acquired over 140 years of being in the pest control industry!
Home Pest Control In Exton, PA
Putting in place a home pest control program is important because pests are always active and always have the potential to invade your home looking for food, water, or shelter. Our home pest control programs provide you with the professional services that are needed to get rid of current pest problems, the information needed to fix the areas around your home and property that may be attracting pests, and the complete routine service visits to help prevent future problems with common household pests.
At Moyer Pest Control, we believe in offering our customers several home pest control programs to choose from. By offering three different pest control programs for Exton, PA homeowners, we are helping to ensure that any homeowner can get the customized home pest control services that meet their home's and their family's specific needs.
Our Exterior Home Guard program includes four service visits every other month in season; our Complete Home Guard program includes four quarterly services per year; three exterior and one interior; and our Platinum Home Guard program is our most comprehensive program and includes six scheduled services every other month along with services to control termites, mosquitoes, and stink bugs.
All of our home pest control programs come with the guarantee that if covered pests come back between visits, we will also return to treat for them at no charge. Contact the home pest control professionals at Moyer to get started protecting your Exton home from pests!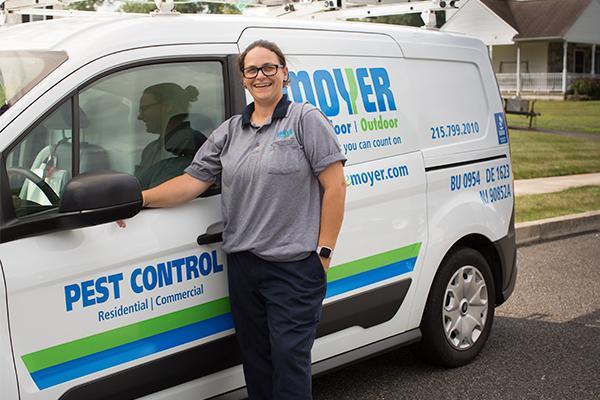 Pest Control Services For Biting Insects In Exton, PA
Could there be anything worse than a line of nuisance ants crawling around in your kitchen, spiders creating webs throughout your home, or foul-smelling stink bugs crawling across your walls? Well, unfortunately, the answer is yes. Yes, it could get worse! You could be having problems with biting insects like bed bugs and mosquitoes in your home or on your property.

Bed bugs and mosquitoes are both parasitic pests that like to bite us and feed on our blood. The difference between the two is that bed bugs typically invade the inside of our homes, while mosquitoes invade outside and inside of our homes. The good news is that the professionals at Moyer have effective treatment programs to get rid of both of these biting insect species!

Bed Bug Control

The team at Moyer Pest Control can easily get rid of any bed bugs that have found their way into your Exton, PA home through our thorough, comprehensive, and effective bed bug control solutions. Our highly trained K-9 inspection teams and customized bed bug treatment plans allow us to completely get rid of biting bed bugs from your home.

Mosquito Control

To control biting and disease-spreading mosquitoes on your Exton property, we have created a very effective treatment solution that greatly reduces their numbers. Our mosquito control service plan provides our customers with six monthly outdoor treatments during mosquito season (May through October) to control mosquitoes that are living, breeding, and resting on your property.
We're Ready To Help
Get started today! Schedule now or call for more information.
Commercial Pest Control Services In Exton, PA
Reputation is very important in the business community, especially in this day and age when a bad review of your business is potentially just a few keystrokes away. One of the best ways to help your business to keep receiving five-star reviews is to put in place a professional commercial pest control program from the pest control experts here at Moyer.

Whether you own or manage a restaurant, food processing facility, retail store, hotel, healthcare facility, or other business, we can put in place a customized commercial treatment program for your specific industry. Our Integrated Pest Management (IPM) approach to commercial pest control provides our customers with the following.
The complete elimination of existing pest problems.

The application of appropriate chemicals in appropriate amounts.

The implementation of measures to prevent future pest activity.
Get started and help to protect your business and its reputation from pests today by calling the commercial pest control experts at Moyer.
Moyer Pest Control, For All Your Exton, PA Pest Control Needs
Moyer Pest Control offers all of our customers the benefits of consistent, safe, and affordable pest control services that are performed by friendly, professional, and highly trained technicians. Since our very start, we have put our customers first and still do; your complete satisfaction with our pest control services is our number one goal.

We take pride in the fact that we combine the latest eco-friendly, state-of-the-art technologies with our pest control methods that we developed over many decades to provide some of the most innovative and effective methods available to combat your pest pressures. Moyer can provide a solution to any pest problem. Contact us today to find out why so many of your friends and neighbors trust us to be their pest control provider.