Pest Control Services In Dublin, PA
Since 1869, Moyer Indoor l Outdoor has been providing pest control services in Dublin and throughout the state of Pennsylvania. At Moyer, we have perfected our Integrated Pest Management (IPM) approach for the best and most effective pest control services. The use of IPM also ensures that your home or business, as well as the environment, will be safe from the unnecessary use of harmful chemicals. Contact our Dublin, PA exterminators today!
Dublin, PA, is a great choice for people who want to be close to Philadelphia without all of hustle of living in the middle of the city. You still get a great suburban feel with all you need without all the hassles of living in Philly itself. But being out of the heart of Philadelphia doesn't get you away from pest problems.
Fortunately for residents of Dublin, Moyer Pest Control is here. We have been in business since 1869 when Moyer & Son began as a small feed mill. Our services have grown to include pest control, but as we have grown, we haven't lost touch with the community that we also call home. We have been a trusted name in business for more than 140 years, and we will continue that tradition into the future.
Residential Pest Control In Dublin, PA
There's no worse feeling than turning a light on and seeing a small shadowy figure dart across the floor, seeing a spiderweb in your garage, or dealing with ants in your backyard. Even if you don't see them, pests could be hiding around your home, putting the health and safety of you and your family at risk.
Whether you are dealing with an active pest infestation or want to make sure your home is protected, Moyer Pest Control has solutions for you. Our standard pest control plan includes four services per year and covers the following pests:
Ants

Centipedes

Clover mites

Crickets

Earwigs

Ground beetles

Millipedes

Pill and sow bugs

Spiders

Wasps and yellow jackets
If you have other pest problems, we have packages that can fit those needs also. Our services are guaranteed effective against all these pests, so if they come back between scheduled treatments we will retreat at no extra charge.
Don't let pests threaten your home and family. Call us today and let us get to work keeping your home and family safe with our residential pest control.
Stink Bug Control In Dublin, PA
Every fall, when temperatures drop and the leaves begin to change, stink bugs become a problem for homeowners all over Pennsylvania. First discovered in Allentown, PA, these small, smelly, shield-shaped insects will invade your home in search of a cozy home for the wintertime and normally come indoors in big numbers. To help protect your home from stink bugs, Moyer Indoor I Outdoor offers an effective stink bug reduction service. Along with helping you get rid of stink bugs in Dublin, we can also get your home free of other insects and rodents that commonly invade homes in Dubin, PA, including, but certainly not limited to:
For more information on our Dublin, Pennsylvania stink bug control services or our home pest control programs, please contact us!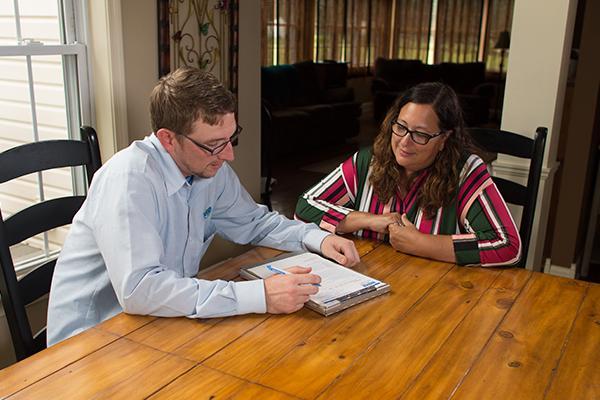 Think You Might Have Bed Bug Bites?
Bed bugs have made a big come back in just the past few years. Since the 1940s, they have been dormant, but now new cases are popping up all over Dublin as well as across the country. A bed bug problem is hard to get rid of because oftentimes you don't even know you have bed bugs because they hide during the daytime hours in many hidden places including:
In mattresses and box springs, especially tucked into the seams

Behind electrical outlets covers and baseboards

In cracks and crevices of upholstered furniture

Behind pictures hangings on walls
Along with hiding during the day and only emerging at night to feed, when most of us are fast asleep, making them hard to confirm, there are other signs of bed bugs that home and business owners should be on the lookout for during the day, if they suspect a bed bug problem:
Dark blood spots on mattress, linens or furniture called bed bug fecal spots

Bed bug casings or bed bug caste skins

Dead bed bugs

Tiny, red bites on your skin, typically in a pattern of three (known as "breakfast, lunch, and dinner")
If you have noticed any of these signs, contact us immediately! We offer accurate K-9 bed bug inspections. Our PA bed bugs dogs can inspect an entire room in less than three minutes and if they confirm you have bed bugs, we offer bed bug treatments that will kill bed bugs quickly!
We're Ready To Help
Get started today! Schedule now or call for more information.
Protect Your Professional Reputation With Commercial Pest Control
With the conditions often found in many commercial facilities, such as adequate moisture and an ample supply of food, insects and rodents, such as mice, ants, flies, and cockroaches can easily live, thrive and reproduce. At Moyer, our commercial pest control programs administered by our expert exterminators in Dublin are trained to get rid of these pests as well as the conditions that keep them alive. With 140 years of being in the pest control industry, Moyer has helped a variety of businesses get rid of their pest problems. We have successfully helped:
Hotels, Motels, Inns

Food and Beverage Processing

Hospitals, Nursing Homes and Retirement Homes

Schools, Colleges and Universities

Retail and Grocery Stores
If pests have invaded your business, contact our PA pest control professionals today.
If you run a business, you know how important reputation is. And nothing can ruin your reputation in the community faster than a pest problem. All it takes is one pest showing up at the wrong time and one online review to drive away customers and cost you money.
At Moyer Pest Control, we understand how important your reputation is, and how important it is to keep it protected. We offer commercial pest control solutions for a wide range of Dublin businesses. Some of the common pest problems that we see and treat include:
Rodents

Flies

Birds

Bed bugs

Common pests like ants and roaches
We can build a custom pest control plan for your commercial property that treats any or all of these and other pests, so you can worry about running your business without worrying about the threat of pests.
Do Ticks In Dublin Carry Lyme Disease?
If you have pets, chances are you've dealt with ticks. Ticks are a common pest in the United States and that is no different here in Pennsylvania. Some of the common species of ticks that we deal with in Dublin include:
American dog ticks

Lone star ticks

Blacklegged ticks

Groundhog ticks
These pests feed on warm-blooded animals, which is why they are commonly found on your pets and on humans. They latch onto these hosts and feed on their blood.
While their bite isn't painful, the diseases they carry can be deadly. The most common disease that ticks can spread is Lyme disease. Blacklegged ticks are the most common vector for Lyme disease. Another common disease that is spread by ticks is Rocky Mountain spotted fever. The American dog tick is most known for spreading Rocky Mountain spotted fever.
Whether it is Lyme disease, Rocky Mountain spotted fever, or another disease, ticks can be dangerous. Our pest control plans can include keeping your home, family, and pets protected from these blood-sucking invaders.
Get Rid Of Termites In Dublin, PA
Termites are small insects that love to feed on wood or anything that contains cellulose. They can cause billions of dollars in damages each year across the country, which typically isn't covered by insurance. Every structure in Pennsylvania is at risk for a termite infestation. To protect your home or business from termites, Moyer Indoor I Outdoor offers termite control for homes as well as commercial termite control in Dublin and throughout several counties across PA. Unfortunately, termite damages are often unnoticed for years, so don't wait any longer and let our termite exterminators in Dublin start protecting your property! For more information on all of the services offered by Moyer Indoor | Outdoor, please contact our PA pest control pros today!
What Termite Damage In Dublin Looks Like
Termites may be one of the scariest pests that homeowners deal with. They don't look scary, but the damage they are capable of can be extensive. In fact, it is estimated that termites cause over 5 billion dollars in damage annually across the United States.
The best way to limit the damage that termites can cause is to catch an infestation early. The sooner termites are treated, the less damage they can cause. To do this, it is important to recognize the signs of termite damage around your home. Some signs that point to an infestation include:
Mud tubes on the exterior of your home

Frass, a fine, sawdust-like substance that is usually found near holes in wood

Paint that is bubbled or uneven

Wood that sounds hollow when tapped

Darkening on wood, especially wood that is exposed to moisture
If you see any of these signs, call us immediately. We can get to work quickly treating your termite problem, which will prevent extensive damage and save you money.