Pest Control For Collegeville, PA
As a longtime Pennsylvania pest control company, Moyer Indoor | Outdoor takes great pride in providing unsurpassed customer service while delivering the most exceptional pest control services in Collegeville as well as across 6 counties of Pennsylvania, including Bucks, Chester, Delaware, Lehigh-Northampton, Montgomery, and Philadelphia County. We utilize the most up-to-date, environmentally-friendly pest control techniques to efficiently and effectively rid your home or business of ants, spiders, mice, silverfish, and cockroaches. If you live or work in Collegeville, PA and are in need of a professional exterminator, contact Moyer Indoor | Outdoor today.
Home to Ursinus College, the aptly named borough of Collegeville is a quaint Philadelphia suburb that sits along the scenic Perkiomen Creek. With plenty of locally-owned restaurants, businesses, and well-maintained parks, Collegeville offers residents small-town living at its finest. Given the area's seasonality that is paired with rainfall and snow during their respective times of the year, there is, unfortunately, always a steady cycle of pests that seek the essentials inside your home or place of business.
At Moyer Pest Control, we've been the local pest experts for more than 140 years, which makes us uniquely qualified to take care of your Collegeville property. With our comprehensive pest control offerings, dedication to excellence, and ongoing efforts toward educating our technicians, you will always be in good hands. To learn more about our offerings and to schedule your first inspection, contact Moyer Pest Control today.
Commercial Pest Control In Collegeville, PA
With over 140 years of commercial pest control experience, Moyer Indoor | Outdoor has helped a variety of businesses and industries in Collegeville keep their facilities pest-free.
Our commercial pest control programs in Collegeville are completely customizable to meet the specific needs of your pest issues, budget restrictions, and industry regulations and are the perfect solution for:
Food & Beverage Processing Plants
Restaurants & Food Service Facilities
Hotels & Commercial Lodgings
Apartment Buildings & Condos
Along with helping you get rid of cockroaches, ants, flies, and mice, our commercial pest control will identify and correct any conditions in which pests tend to thrive. If your Collegeville, PA business is in need of effective, affordable pest management services, please contact the professionals of Moyer Indoor | Outdoor.
Whether they're big or small, pests can mean big problems for your Collegeville business that might include health risks, property damage, and lost business. But with professional pest control from Moyer Pest Control, that doesn't have to be the case. For more than 140 years, we've been committed to our customers' complete safety and satisfaction. Our team of skilled pest professionals will always go the extra mile on our path to find solutions that work for you. Everything we provide commercial customers with is completely tailored to their needs and the standards set forth by their industry. And because we are completely committed to your satisfaction, we pride ourselves on providing quick response times, detailed reporting, and service schedules around the clock. To learn more about how your business can benefit from routine pest control, contact Moyer Pest Control today.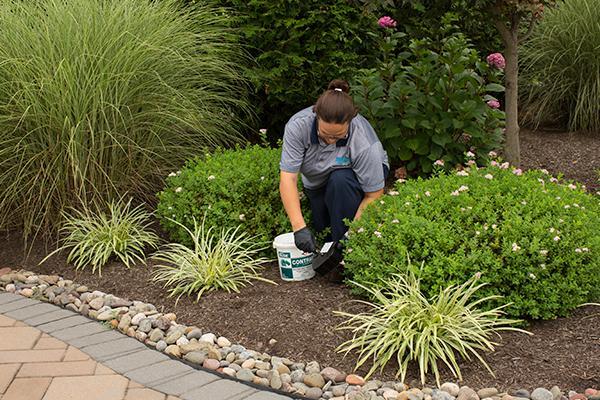 Home Pest Control In Collegeville, PA
The Service Professionals™ of Moyer Indoor | Outdoor understand that your home is your biggest investment and protecting it from nuisance, potentially damaging insects and rodents is your top priority. For the homeowners in Collegeville as well as our entire Pennsylvania service area, we offer three levels of customized home pest control services that will help you get rid of the pests that are bugging you:
Exterior Guard - A pest control program designed to eliminate the need for our exterminators to enter your home and includes 4 exterior treatments from March through October.

Complete Home Guard - A home pest control plan that includes three exterior treatments and a fourth visit that includes a comprehensive inspection of your home with preventative measures for rodents, spiders, and other cold-weather pests.

Complete Home Guard Plus - A home pest control program with all of the benefits of Complete Home Guard PLUS protection from termites.

Platinum Home Guard. For the homeowner who wants full coverage, this plan provides six treatments built around IPM, one termite inspection, vole monitoring, and more!
Don't let unwelcome insects and rodents make your home theirs; contact Moyer Indoor | Outdoor today for more information on all of our pest control programs available in Collegeville, PA.
Pest problems can crop up in Collegeville homes whether you're aware of them or not, and whether you try on your own to prevent them or not. That's why professional pest control from Moyer Pest Control is the best way to protect your home from infestations throughout the year. We're backed by 140 years of experience and a dedication to the latest technologies, so when you work with Moyer Pest Control, you can rest assured that you're always receiving the best care.
For more information on how you can benefit from professional pest control services, contact Moyer Pest Control today.
We're Ready To Help
Get started today! Schedule now or call for more information.
Bed Bug Exterminators In Collegeville, PA
Don't let bed bugs keep you up at night, let Moyer Indoor | Outdoor help with our effective bed bug control services that are sure to help you get rid of bed bugs fast. Bed bugs are not a new pest problem, they are simply back after 50 years of dormancy and are rapidly infesting homes as well as a number of commercial facilities throughout Collegeville, including:
College & University Dorms
Hospitals & Nursing Facilities
If you suspect a bed bug problem in your home or business, let our experienced K9 bed bug inspection team sniff out these tiny, blood-sucking insects for you. Once these pests have been detected, let our Service Professionals™ kill bed bugs with several bed bug control options, including bed bug heat treatments, which can get rid of bed bugs often in as little as one day.
Get Rid Of Termites In Collegeville, PA
Properties throughout Pennsylvania are at extreme risk for an infestation of termites, including Collegeville. These small wood-destroying insects have an insatiable appetite for wood and other items containing cellulose and can go undetected for years behind walls and under floors as they cause extensive damage to your home or business. Moyer Indoor | Outdoor understands how emotionally and economically devastating these insects can be, so in order to help you get rid of termites we offer residential termite control as well as commercial termite control, utilizing Termidor® termiticide/insecticide. This effective solution for termites will not only get rid of these damaging insects, but will also help prevent future infestations from occurring on your property. Contact Moyer Indoor | Outdoor today for more information on our Collegeville, PA termite control services or any of our other pest control services.
How To Tell If Your Collegeville Property Has A Termite Problem
Termites are one of the most destructive pests that you could encounter on your Collegeville property. Each year they threaten more than 600,000 homes, causing over five billion dollars in damage. And while preventing termites would be the most ideal situation, knowing the signs and seeking professional help is the next best option. Here are a few of the ways to tell if your Collegeville property has a termite problem:
Wood that has a shredded appearance

Hollow-sounding walls

Bubbling paint or wallpaper

Swollen floors or ceilings

A sweet, musty odor

Piles of shed wings

Tiny pinholes in the wood around your property

Termite swarmers, which are the adults that leave the colony to start another one

Piles of frass, which is sawdust-like material that is actual termite fecal matter
For the most comprehensive protection against termites and the damage that they cause, contact Moyer Pest Control today. We provide free termite inspections, liquid treatments with Termidor, and baiting stations for your complete safety. Contact us today for more information on how we can keep your property termite-free.
Am I At Risk For Yellowjackets Around My Collegeville Home And Yard?
Yellowjackets are a potentially dangerous member of the stinging insects family, as they are very territorial and known to sting. And the truth is, your Collegeville home is always at risk for some level of yellowjacket activity. These pests typically emerge during late spring, with their activity in full swing by summer. So the summer months and well into early fall are when you can expect to experience the most yellowjacket behavior. However, you are just as susceptible to yellowjackets in the winter, as this is when they hibernate into their winter sleep.
Yellowjackets are attracted to your Collegeville home and yard in the first place because they're either looking for a place to build their nest or because your property offers them food. The food that yellow jackets typically look for is other pests like caterpillars, or your food, which is preferably in the form of sweets or meat. To prevent yellowjackets from taking up shelter on your property or if you need the safe removal of an active or old nest, contact the professionals at Moyer Pest Control today.