Pest Control For Clayton, DE
Located just northwest of Delaware Bay a short drive from the Delaware River, Clayton, Delaware is small in size but big in heart. At just two miles by one and ½ mile in total area, Clayton has nevertheless become an excellent place to live for its almost 4000 residents.
Unfortunately, people aren't the only things living and working in Clayton. The residential areas of our town also make the perfect breeding grounds for pests of all shapes and sizes. Without a pest control program in place, your Clayton home could become a haven for them to invade, putting your family and pets at risk. Don't leave yourself in harm's way: when pests start making their way into your Clayton home, contact the pest professionals at Moyer Pest Control for immediate assistance!
Residential Pest Control In Clayton, DE
Your Clayton home's pest problems can easily be eliminated and prevented by implementing an affordable, year-round pest control program from the Delaware pest control experts at Moyer Pest Control. In order to meet your home's and family's unique needs, we have developed three different home pest control programs that combat common household pests.
Our Exterior Home Guard program includes four services every other month in season.
Our Complete Home Guard program includes four quarterly services per year; 3 exterior and 1 interior.
Our Platinum Home Guard program includes six scheduled services every other month. Treatments are targeted to active pests of the season. This program also includes protection against termites, mosquitoes, and stink bugs.
To discover more details about each of our quality programs call us today and speak to one of our helpful and professional pest control experts.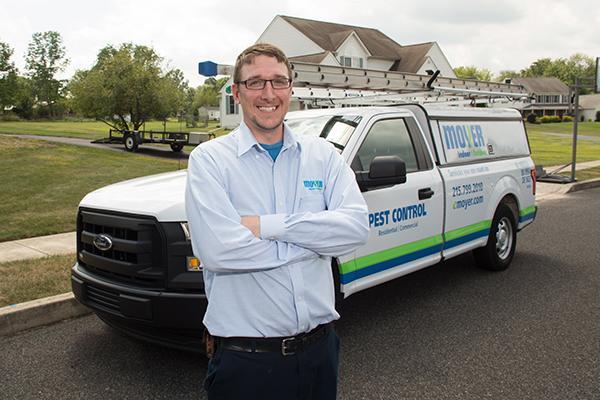 Protect Your Clayton, DE From Carpenter Ant Damage
When talking about household-invading ants they are typically described as "nuisance pests", something that is an annoyance and should be eliminated as quickly as possible, but that causes no real harm. However, there is always an exception to every rule, and the exception, when talking about house-invading ants, is the carpenter ant.
Carpenter ants are considered to be a destructive species of ant and, if not eliminated, can cause costly and extensive damage to a home they have invaded in order to nest inside its structural wood. Carpenter ants don't actually consume a home's structural wood, rather tunneling through it and creating satellite nests near a newfound food source, helping to expand their colony.
To protect your Clayton home from the serious damage a carpenter ant colony nesting inside its walls can cause, the professionals at Moyer Pest Control highly recommend a proactive approach. Implementing a year-round pest control service is the best way to avoid carpenter ant damage inside your home, along with avoiding problems associated with other common household invaders.
To learn more about protecting your home from destructive carpenter ants with the help of our year-round pest control services, give us a call today at Moyer Pest Control.
We're Ready To Help
Get started today! Schedule now or call for more information.
Commercial Pest Control In Clayton, DE
Contact the Clayton, DE commercial pest control experts at Moyer Pest Control to put in place a pest control program for your restaurant, hotel, retail store, food processing facility, healthcare facility, or other business, providing long-term relief against dangerous and damaging pests. Pests living inside a business can cause the following problems and more:
Failed health inspections

Loss of customers and business

A damaged reputation in the community

Loss of employee morale

Damage to the structure of your business

Destruction of inventory and the contamination of food sources
At Moyer Pest Control we protect businesses from pests by relying on Integrated Pest Management (IPM). Our commercial pest control services offer customers the complete elimination of current pest problems, the safe application of chemicals in and around your facility (as need), and the implementation of preventative measures to stop future problems with pests.
Call us today to learn more about our commercial pest control solutions to protect your unique Delaware business from pests.
Learn How To Avoid Bed Bugs In Clayton, DE
Avoiding coming into contact with bed bugs in Delaware is no doubt a difficult and frustrating task, but it's a task that should be taken seriously to help prevent these blood-feeding parasites from making their way into your Clayton home.
Bed bugs have the potential to be found living in almost any public place, where people continuously come and go. Hotels, airports, buses, taxis, libraries, movie theaters, hospitals, and schools are all common places where people come into contact with bed bugs. To help avoid contact with bed bugs we want to provide you with some of the top bed bug prevention tips:
Gain a good understanding of what bed bugs look like and be able to identify common signs of their presence.

Always keep personal belongings such as bags, coats, purses, and luggage off the floor in public places.

Never purchase used mattresses, box springs, or furniture for your home.

Schedule routine, professional bed bug inspections for your Clayton home from the professionals at Moyer Pest Control.
If bed bugs are discovered during an inspection, we act quickly, providing effective, affordable, and eco-friendly bed bug control services to completely eliminate the infestation from your home. To learn more about protecting your Clayton, Delaware home from bed bugs, call Moyer Pest Control today.