Pest Control For Chester Springs, PA
The rich, green, rolling hillsides and affluent neighborhoods of the unincorporated community of Chester Springs, PA invites those wishing to find a safe, comfortable place to raise their families, and to settle down and walk the streets of one of the most historically rich communities in Chester County.
It doesn't take very long for residents to experience the strong sense of community and the comfortable way of life that they were searching for and protecting that way of life is well worth the effort.
One of the ways that residents here in Chester Springs help to protect our community is by protecting their homes and businesses from the harmful and damaging effects of pests with year-round pest protection services from Moyer Pest Control.
With more than 147 years of experience in local pest pressures, Moyer Pest Control has built a reputation for affordable, safe, and effective pest protection services. Our highly trained pest professionals have access to the latest technologies and the most innovative services to ensure that your pest issues are handled with timely and effective solutions.
We offer both residential and commercial pest control solutions, termite monitoring and control services, bed bug extermination, stink bug control services, mosquito abatement, and much more. To learn more about our industry-leading pest protection services for Chester Springs' residents, simply contact us today.
Home Pest Control In Chester Springs, PA
Pests pose a real risk to your Chester Springs home. Termites can cause extensive damage to the support structures inside your walls, and mice damage personal belongings, wood, pipes, insulation, and wiring with their gnawing habit which can not only cause extensive damage but when mice chew through live wires, a fire can be sparked.
If that wasn't bad enough, mice, cockroaches, mosquitoes, and more can carry and transmit diseases to you and your family. The most successful and cost-effective way to protect your Chester Springs home from the consequences of a pest infestation is with a year-round pest protection plan from Moyer Pest.
Our Home Guard residential pest protection programs have been designed to eliminate pest pressures and to prevent new pest pressures in the future. Whether you choose our Exterior Home Guard program, our Platinum Home Guard program, or our all-inclusive Complete Home Guard program you can rest assured that all your pest pressures will be quickly and completely eliminated. We guarantee it!
To learn more about our industry-leading pest control solutions for your Chester Springs home, contact us today.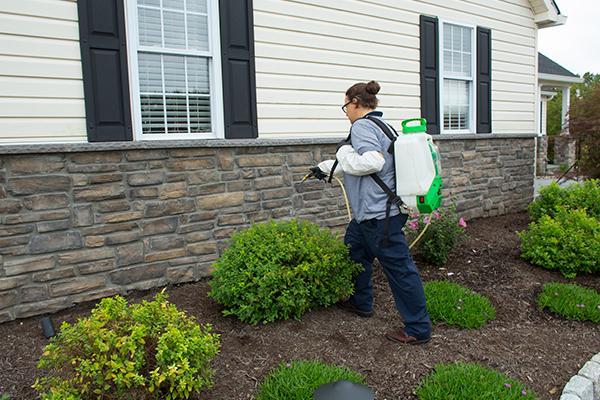 Commercial Pest Control In Chester Springs, PA
A year-round commercial pest protection plan is an important part of running your Chester Springs business. Pests like cockroaches, rodents, and others can damage your product line, bring illness to your customers, and cause irreparable damage to your reputation; and with today's world of social media, news of pests in your commercial setting can spread very quickly. Once word spreads, your bottom line is sure to take a hit. Many businesses here in Chester Springs and across Pennsylvania have chosen to protect their businesses with year-round pest protection services from Moyer Pest.
Moyer Pest Control has been protecting homes and businesses throughout our area for more than 147 years, and our experience in local pest pressures can't be matched. When you combine that hands-on knowledge with Integrated Pest Management protocols and the innovative tools and technologies of today, Moyer Pest Control is a force that cannot be reckoned with. Pests in your work environment do not stand a chance.
No matter the size of your property or which industry you are in, Moyer Pest has the solutions for your pest pressures that will be effective and will meet all the pest control regulations for your particular industry. Here are some of the industries we provide commercial solutions we offer:
Property management

Food processing

Healthcare

Hospitality

Pharmaceutical

Restaurants

Retail facilities

Warehousing
We're Ready To Help
Get started today! Schedule now or call for more information.
Termite Prevention In Chester Springs, PA
Termites are a troublesome insect that can sneak into your home or business and damage the structure of your building without you even realizing they are there. This is how they are able to cause billions of dollars worth of damage across the country each year.
Since most property owners do not find out that termites are present until the damage is so severe that it is noticeable and costly, the best way for you to protect your Chester Springs home or business from these wood-destroying insects is with a reliable monitoring and control system like the ones here at Moyer Pest Control. We offer three professional termite prevention programs in Chester Springs for you to choose from depending on logistics and your personal preference:
Pest Termite Renewal Program: (PTR). This program uses our Green Eyes monitoring stations which are strategically placed around the foundation of your home or business by our termite experts. The monitoring stations set off a visible signal that the property owner can see when termites are present. It is perfect for the property owner that wants protection, but is able to monitor for termites throughout the year on their own with yearly visits by our technicians. This is perfect for properties that have no visible signs of damage, no active termite colonies upon our initial inspection, and no previous treatments for termites. This program is designed for early detection services and is not intended for properties that have or have ever had termites.

Pest Termite Preventative Program: (PTP). This program utilizes the Termidor® termiticide on the exterior of your building. It is designed to protect your property from termites and is more cost-effective than repairing damages after an infestation. There is a fixed annual renewal rate to continue this protection. This is perfect for properties that have no evidence of an active termite infestation.

Complete Home Guard Plus: (PQP). This comprehensive termite protection program is part of a larger, routine pest control program and monitors and control termites on a regular basis.
There is not a town or a city that is exempt from these pests, not even our pristine community of Chester Springs. If you have an existing termite infestation or if you want to avoid having termites sneaking onto your property in the first place, Moyer Pest Control is where you should turn. Give us a call to see how affordably we can help to protect you from the costly damages associated with termites.
Why Choose Moyer Pest Control In Chester Springs, PA?
Moyer Pest Control offers the most innovative, advanced technologies and protocols, and our experts are backed by more than 147 years of hands-on experience in local pest pressures. Since we opened our doors in 1869, we have been committed to safe, effective pest control options and superior customer service.
We utilize conventional methods and materials that have been proven to be effective options for generations, we also continually work to bring you the newest solutions that work too. We are QualityPro certified, which means that we meet or exceed national standards set in trusted consumer relations, certified business practices, ongoing expert employee training, and superior environmental stewardship practices to bring you the very best possible care.
When pests become a problem for you in your Chester Springs home or business, you can trust the industry-leading team at Moyer Pest Control to safely and effectively handle it.