Rolling Hills, Bubbling Streams, Lush Mountains, And Pristine Neighborhoods
Buckingham is a beautifully landscaped township that is home to rolling hills, bubbling streams, lush mountains, and pristine neighborhoods. To help keep Buckingham looking its best and to keep pests out of the homes and businesses located in it, the Pennsylvania pest control experts at Moyer Pest Control offer affordable, effective, and modern pest control services.
Our professionals are dedicated to protecting Buckingham properties and residents from rodents and insects; they have a deep understanding of local pest pressures and how to thoroughly eliminate any pest problem as quickly as possible. To learn more about our pest control options, get in touch with us today at Moyer Pest Control!
Residential Pest Control In Buckingham, PA
Protect your Buckingham property from pests all year-round, no matter what the season through our year-round residential pest control services - Complete Home Guard, Exterior Home Guard, and Platinum Home Guard.
Our Platinum Home Guard Program is our most inclusive service and provides the most comprehensive protection against common household invading pests.
The Platinum Home Guard service includes: six scheduled service visits performed every other month to target pests that are specific to the season, five services that treat the exterior of your home, inside treatments that are performed as needed, three visits a year inspecting termite monitors that have been placed around your home, spider webs & their eggs are removed on each visit, four mosquito & tick applications to targeted areas, one interior inspection to prevent pests from invading your home during the winter months, along with checking for signs of termites, and vole monitoring and inspection every visit (treatment when needed).
To learn more about any of our quality, industry-leading residential pest control services for your Buckingham home, contact us today!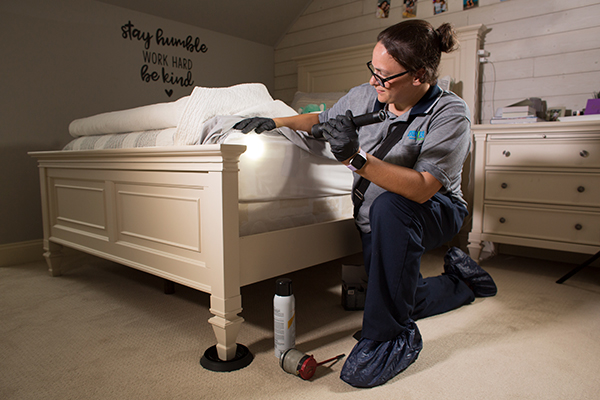 Tips To Avoid Fruit Flies In Buckingham, PA
Fruit flies are a persistent, pesky pest that can quickly multiply within your home and become a huge nuisance. Fruit flies are agricultural pests that feed on ripe fruits, vegetables, fermenting products, garbage, and more.
Their tiny size and prolific breeding habits make these pests hard to prevent, but with the help of Moyer Pest Control and the following prevention tips, you can put into place the measures needed to keep them out of your home and away from your food.
Keep doors and windows shut as much as possible or make sure that they have screens in place that are completely intact

Make sure that windows and doors have weather stripping placed around them

Inspect produce that you are purchasing from the store for signs of fruit flies

Keep fruits and vegetables in the refrigerator instead out in the open on counters

Discard overripe fruits and vegetables from your home as quickly as possible

Place garden areas away from the exterior of your home

Pick up fruits and vegetables from your property that have fallen to the ground as quickly as possible

Put into place a year-round residential pest control program from the fruit fly control experts found at Moyer Pest Control
We're Ready To Help
Get started today! Schedule now or call for more information.
Commercial Pest Control Solutions In Buckingham, PA
At Moyer Pest Control we provide exceptional commercial pest control services through Integrated Pest Management (IPM) to keep disease-spreading, destructive, and invasive pests out of your Buckingham commercial property. Using IPM, our pest professionals can quickly eliminate current pest problems, complete the safe application of chemicals in and around your facility, and put into place prevention measures to stop future problems with pests like ants, spiders, roaches, mice, and flies.
Other benefits of choosing Moyer Pest Control for your commercial pest control needs include:
Access to our Centralized Scheduling/Pest Portal™ Site Assistance

Comprehensive reporting

The convenience of Saturday and after-hours services

The knowledge that you will always receive service with the highest of standards
To learn more about protecting your Buckingham business from the damages that pests can cause, call us today!
What To Do When You Find Bed Bugs In Your Buckingham, PA Home
Bed bugs are pests that do not discriminate; they are found in almost all public places and have the potential to hitchhike their way into any Buckingham home. If you ever discover bed bugs or the signs of their presence in your home, immediate action needs to be taken and the professionals at Moyer Pest Control should be contacted.
To eliminate these blood-feeding, parasitic pests as quickly as possible from any Buckingham home we always begin with a thorough bed bug inspection which allows our professionals to verify an infestation and target the treatment area. Then a tailored treatment plan will be developed to meet the specific needs of your home and to eliminate the infestation as quickly as possible.
Early detection is key when it comes to eliminating bed bugs, contact Moyer Pest Control today to schedule a K-9 inspection.